Report: Rumsfeld mulls China visit
(Agencies)
Updated: 2005-02-10 09:00
US Defense Secretary Donald Rumsfeld reportedly wants to visit China this year in an effort to revive US-Chinese military dialogue interrupted after a US Navy spy plane collided with a Chinese fighter jet over the South China Sea in 2001.
Rumsfeld has agreed in principle to pay an official visit to China, but no date has been set and no final commitment has been made, a senior US Defense Department official was quoted as saying in The New York Times.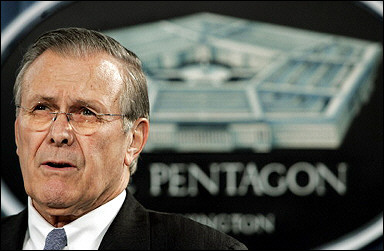 US Defense Secretary Donald Rumsfeld. [AFP/file]
"Secretary Rumsfeld is interested in visiting China this year," the official said.
A US Navy EP-3 surveillance plane collided with a Chinese fighter in April 2001 over the South China Sea.
The Chinese pilot was killed and the crippled EP-3 was made an emergency landing at an airbase on China's Hainan island, where the plane's crew was held for 11 days.
The Times said the Pentagon official also described lingering Pentagon concerns about Chinese military policies, citing Beijing's most recent military and defense policy white paper.
The document said the US military presence in the region "complicated security factors" and that the situation in the waterway dividing Taiwan from the Chinese mainland was "grim," the Times said
The official described the wording of the document as "an escalation in the level of rhetoric." Pentagon officials recently pressed their Chinese counterparts on the choice of words, the official said.
The Pentagon is concerned with China's military buildup across from Taiwan, the Pentagon official added.
In recent meetings, Chinese and US defense, military and diplomatic officials have discussed a US proposal for an emergency telephone link between the two militaries to prevent misunderstandings and talks on maritime and safety issues, the official said.
The question of expanding reciprocal visits has come up, the officials said, adding that the US delegation pressed for improving the quality "of what we get to see and do."
"Our emphasis is on transparency and reciprocity," the official said.
Today's Top News
Top China News

Leaders spend spring festival with farmers, AIDS patients




Japan's action on island lighthouse "illegal'




China poised to overtake US in 2020s




US asks China to push for N. Korea talks




China's trade surplus reach US$6.48b in Jan.




Sharon, Abbas declare ceasefire at summit