Leaders greet festival with disadvantaged
(Xinhua)
Updated: 2005-02-09 22:00
Patting baby cheeks, pounding sticky rice to make traditional food; kissing cheeks of orphans of AIDS patients and having pictures taken with AIDS patients -- this is how China's top leaders spent their Spring Festival.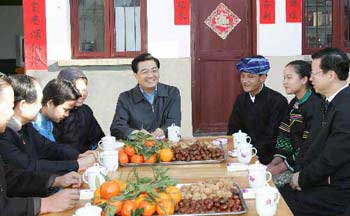 President Hu Jintao Tuesday asked local officials to help farmer Zha Lanming to build up family fortunes and improve living standards when he visited Zha's home in a village in Xingyi City of Guizhou Province, southwest China, on the eve of the Spring Festival. [Xinhua]
President Hu Jintao and Premier Wen Jiabao greeted the Spring Festival, the Chinese Lunar New Year, together with the most disadvantaged group of the Chinese population: the rural poor in a southwestern mountainous Guizhou Province and villagers suffering from the AIDS epidemic in central Henan Province.
Once again China's top leaders spent the most important family reunion holiday outside their own homes. President Hu made Jiaozi (dumplings) at a farmer home on the Spring Festival eve last year in southwest China's Guizhou Prvince, when Premier Wen ate Jiaozi with miners hundreds of meters down the earth two years ago.
On Tuesday, the eve of the Spring Festival, Hu was welcomed by villagers of Nahui in Xingyi City of Guizhou Province, who were singing and dancing to the traditional festive tunes of the Bouyei ethnic group. He sipped tea with villagers and lifted up a kettle to examine a villager's stove.
After pounding sticky rice, Hu took a bite of the local traditional food, eating it with his hands.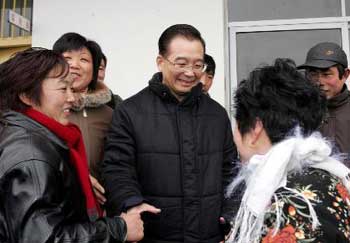 Chinese Premier Wen Jiabao (center) extends to shake hands with an AIDS patent (back to camera) on the eve of the Chinese lunar new year in a village in Shangcai, Central China's Henan Province February 8, 2005. [Xinhua]

During his tour, Hu instructed the local officials to help reduce poverty in the mountainous region mainly populated by ethnic minorities. Hu served as Party chief in Guizhou between 1985 and 1988.

"All of our minorities must struggle together in order to realize our national goal of creating a relatively affluent society in an all-round way," Hu said.

China's per capita annual income has passed US$1,000, but many rural families still live in poverty.

Premier Wen visited several AIDS villages in Shangcai County of Henan Province Tuesday.

Following President Hu's widely-acclaimed handshake with AIDS patients in November 2004 on the World AIDS Day in a Beijing hospital, AIDS prevention and the welfare of HIV/AIDS victims, once a largely neglected and even taboo topic for many Chinese officials, has attracted much greater attention from both central and local governments.

In Henan, where farmers in dozens of villages contracted HIV/AIDS from contaminated blood selling, provincial officials were dispatched to live in so-called "AIDS villages" and help villagers get treatment and assistance.

To the delight of Wen, government promises to offer free treatment to poor patients have been fulfilled there and living conditions greatly improved with more paved roads, running water and various government assistance.

Wen kissed an orphan whose parents died of AIDS during a Lunar New Year party at "Sunny Homestead" for the homeless who lost their families due to AIDS, and ate Jiaozi with the children and old people.

Wu Jiang, professor with the State Administrative College, said that the Spring Festival is a time for family gatherings, but it, together with other holidays, is also a time for the top leaders to get in touch with the common people.

"The new leadership has issued a series of policies to benefit the common people. Now they are making use of the holiday to chec khow the policies have been enforced and what effects they are having."

To China observer Gregg Whycherley, a New Zealand journalist working in Beijing, President Hu and Premier Wen's moves are admirable.

"I think it's a new approach on behalf of the Chinese government to show concern for disadvantaged people," he said.




Today's Top News
Top China News

N. Korea announces it has nuclear weapons




Leaders greet festival with disadvantaged




Japan's action on island lighthouse "illegal'




China poised to overtake US in 2020s




US asks China to push for N. Korea talks




China's trade surplus reach US$6.48b in Jan.