Israel, Palestinians to declare ceasefire
(Agencies)
Updated: 2005-02-08 10:10
SHARM EL-SHEIK, Egypt - Israeli and Palestinian leaders said they will declare a formal end to more than four years of fighting during a summit Tuesday in this Egyptian resort — a breakthrough in Mideast peacemaking that comes after both sides also accepted invitations to meet separately with US President Bush at the White House.
The cease-fire deal, finalized during last-minute preparations Monday on the eve of the summit, was the clearest indication yet of momentum following Yasser Arafat's death, the election of a new Palestinian leader and a signal from the White House that it plans a renewed push for peace.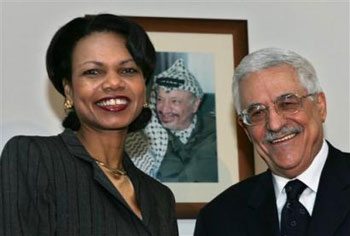 U.S. Secretary of State Condoleezza Rice, left, and her host Palestinian Authority (news - web sites) President Mahmoud Abbas, also known as Abu Mazen, stand next to a photo of the late Palestinian leader Yasser Arafat in the Presidential headquarters in the West Bank town of Ramallah Monday Feb. 7, 2005. Rice wound up two days of meetings with Israeli and Palestinian officials on her first visit to the region since taking office. [AP]

"The most important thing at the summit will be a mutual declaration of cessation of violence against each other," said Saeb Erekat, a Palestinian negotiator.

Erekat said the agreement also includes the establishment of joint committees — one to determine criteria for the release of Palestinian prisoners held in Israeli jails, and the other to oversee the gradual withdrawal of Israeli forces from Palestinian cities on the West Bank.

An Israeli government official, speaking on condition of anonymity, confirmed the cease-fire agreement and said it would also include an end to Palestinian incitement to violence, such as official Palestinian TV and radio broadcasts that glorify suicide bombers and other attackers.

Palestinian leader Mahmoud Abbas and Israeli Prime Minister Ariel Sharon will attend the summit Tuesday in this Egyptian beach resort, along with Jordan's King Abdullah II and the host, Egyptian President Hosni Mubarak. It will be the first meeting of the Israeli and Palestinian leaders since Abbas, also known as Abu Mazen, succeeded Arafat after his death on Nov. 11.

In Washington, Bush said the background for peace talks improved with Abbas' election in January. His invitations to both sides to separate talks this spring seemed a clear signal he plans a stepped-up peacemaking effort in his second term.

"What you're watching is a process unfolding where people are becoming more trustworthy," the president said.

Secretary of State Condoleezza Rice, ending two days of pre-summit talks in Israel and the West Bank, called it "a time of hope, a time we can hope for a better day for the Palestinian and Israeli people both."

Bush — who had refused to meet with Arafat — said he was impressed by Abbas' commitment to fighting terror.

"Prime Minister Abbas comes to the table with a mandate from a lot of Palestinians," Bush told reporters at the end of a Cabinet meeting, unintentionally misstating the Palestinian leader's job title. "He has been through an election. He has been endorsed by the Palestinian people."

In New York, U.N. Secretary-General Kofi Annan Monday urged both sides to intensify their talks. "We would welcome any agreement of a cease-fire."

Abbas, who is president of the Palestinian Authority, said he hoped the summit would open the way for further Israeli-Palestinian negotiations aimed at implementing the internationally backed "road map" to peace.

"Two weeks ago, we announced a cease-fire. Since then, we have been in extensive talks with the Israeli side over many issues. If you wait for tomorrow, you will hear about the results," Abbas said after meeting with French Foreign Minister Michel Barnier in the West Bank town of Ramallah.

Significant steps have been taken since Arafat's death to reconcile Israel's primary concern of security with Arabs' main objective of getting the "road map" on the fast track.

Abbas has deployed police to keep the peace in Gaza, ordered arrests of some operatives and appears to have won pledges from militants to halt attacks on Israel.

However, a Hamas spokesman in the Gaza Strip said the radical Islamic group, which has been responsible for hundreds of attacks against Israelis during the past four years, would evaluate the summit before committing itself to halting its campaign of violence.

"We agreed before with Mahmoud Abbas that if he succeeds to achieve our national goals he should come back to the Palestinian factions to discuss the issue and after that we will decide our stand," Mahmoud Zahar said.

On the Israeli side, the government is pledging to free 900 of the about 8,000 Palestinian prisoners it has in custody and gradually pull out of five Palestinian towns on the West Bank.

And in a humanitarian gesture ahead of the summit, Israel reopened a key Gaza cargo crossing Monday that had been closed after a Jan. 13 attack killed six Israeli civilians.

Mubarak, the lead Arab mediator of the conflict, has backed Israel's plan to pull out from Gaza by offering to police the porous border with Egypt, has reversed his public view of Sharon to call him a man capable of making peace and has signed a key trade agreement with Israel.

In the past, U.S. intervention has been necessary to secure any major advances, but Rice said it would be good for regional leaders to push forward on their own. Neither she nor any other high-ranking U.S. official will attend the summit.

Rice met with Sharon on Sunday, and told the Israelis they must make hard decisions for peace.

After her meeting Monday with Abbas, Rice said she would appoint a "security coordinator" who would supervise reform of the Palestinian security forces.

She also said Washington would send more than $40 million in immediate aid to the Palestinians to create jobs and rebuild infrastructure. U.S. monitors would be dispatched to the region, she said, promising that "we will be very active."

The moves have created a new sense of optimism that a Mideast peace process largely deadlocked since September 2000 can get a fresh start.

"There is an opportunity. If you don't seize it, it will be lost," said Wahid Abdel Meguid, a political analyst with the Al Ahram Center for Strategic Studies in Cairo.

Egyptian Foreign Minister Ahmed Aboul Gheit, speaking Sunday during a visit to Damascus, said that if the summit generates enough goodwill, he hopes to see movement on the Syrian-Israeli front. Those peace talks stalled in January 2000.

On the Israeli-Palestinian conflict, the prisoner issue is one of the most emotionally charged issues expected to come up at the summit.

Securing a larger release would boost Abbas in his efforts to persuade militant factions to end the armed Palestinian uprising. Israel has balked at releasing prisoners involved in deadly attacks, but then signaled some flexibility when it agreed to set up a joint committee to review the possible release of inmates with "blood on their hands."

Tied to that is the question of Palestinian fugitives wanted by Israel for attacks against Israelis. The Palestinians expect to receive a list of names of fugitives — about 350 people — who would be given conditional amnesty, provided they hand over their weapons and agree not to leave their hometowns.




Today's Top News
Top World News

Toll in Asian tsunami disaster tops 295,000




Wen: China to build a harmonious society




New bird flu vaccine capable of prevention




Bush proposes steep cuts in $2.57T budget




Attacks in Iraq kill at least 30 people




US forces storm Iraqi house, free Egyptians