Hostages leave Spanish consulate in Berne - police
(Agencies)
Updated: 2005-02-07 22:20
Three armed men, suspected robbers, were thought to be trapped in the Spanish consulate in the Swiss capital Berne Monday but three of their hostages had left the building, police said.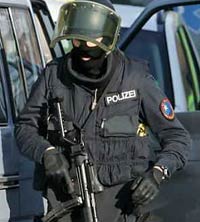 An armed police officer heads towards the Spanish consulate in Berne February 7, 2005. [Reuters]

Five hours after the drama began at 8 a.m. (0700 GMT), it was unclear whether the hostage takers or any more hostages were still in the building but, police said, the three known hostages had either escaped or been freed.

The Spanish Foreign Ministry said it did not suspect Islamic terrorism was the motive and the intruders appeared headed for the embassy safe.

"We assume (that they are still in the building). We are acting as though they are," Berne cantonal police spokesman Juerg Mosimann told reporters at the scene.

Police said the three men were believed to be armed with a knife and a firearm.

A Reuters correspondent at the scene said police had used a megaphone to call on the hostage-takers to leave the building with their hands in the air, without any apparent response. One hostage managed to escape, while police freed two more employees, police said.

"The two Spanish citizens who were taken hostage ... have left the premises safe and sound," Angel Vazquez, a spokesman for Spain's Foreign Ministry, told Spanish state radio.

HEADED FOR THE SAFE

An armored personnel carrier was in front of the building in Berne's upscale embassy district near the historic center.

Swiss radio RSR said one or more intruders had forced their way into the consulate just as an employee was arriving for work. Another employee was already inside the building.

When a third employee turned up, he or she was pushed back out of the door. At that moment, a police car was passing and raised the alarm, RSR said.

Swiss television SF-DRS said the intruders spoke French.

"We suspect that the motives of the assailants could be economic as these three individuals headed for the strong box (safe) from the outset," Vazquez told Reuters in Madrid.

There was no indication so far that the incident was related to Islamic militants. Swiss authorities have agreed to extradite Mohammed Achraf as part of a Spanish judge's investigation into the "Martyrs for Morocco" group, which, he says, flourished among Muslim prisoners in Spain's jails.




Today's Top News
Top World News

Toll in Asian tsunami disaster tops 295,000




Wen: China to build a harmonious society




New bird flu vaccine capable of prevention




Bush proposes steep cuts in $2.57T budget




Israel, Palestinians to declare ceasefire




US forces storm Iraqi house, free Egyptians