Attacks in Iraq kill at least 30 people
(Agencies)
Updated: 2005-02-07 21:02
Insurgents struck at Iraqi police forces with a suicide bomb, a car bomb and mortars in the cities of Mosul and Baqouba on Monday, killing at least 30 people as they pressed their campaign to undermine the nation's fledgling security forces.
The deadliest attack came in Baqouba, where a car bomb exploded outside the gates of a provincial police headquarters, killing 15 people and wounding 17, police Col. Mudhahar al-Jubouri said. Many of the victims were there to seek jobs as policemen, al-Jubouri said.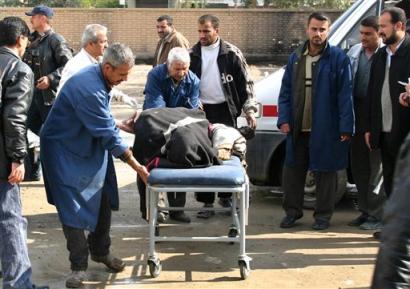 Hospital workers attend to a victim of a car bomb attack outside the protective blast barriers of a provincial police headquarters in the city of Baqouba, 57 kilometers (35 miles) northeast of Baghdad, Iraq Monday, Feb. 7, 2005. The attack killed 15 people and wounded 17 others. The medical condition of the victim was not immediately known. [AP]

In the northern city of Mosul, a suicide bomber blew himself up inside the compound of Jumhouri Teaching Hospital, killing 12 policemen guarding the site and injuring four others, hospital officials said.

The bomb went off outside the hospital building, hospital Director Tahseen Ali Mahmoud al-Obeidi said. Witnesses said the bomber called the police officers over to him and then blew up among the crowd.

"I heard an explosion. When I went to check, I saw bodies everywhere," al-Obeidi said.

The ground was soaked with blood. Nurses collected body parts, putting them in bags.

In a posting on a Web site, the al-Qaida in Iraq group, led by Jordanian militant Abu Musab al-Zarqawi, said "a lion from the Martyrs Brigade" wearing an explosives belt managed to get inside a police post at the Mosul hospital. The claim could not be verified.

There was no claim for the Baqouba attack.

Also Monday, insurgents shelled a police station in Mosul with more than a dozen mortar rounds, killing three civilians, a police official said.

The city of Mosul, Iraq's third largest, has seen daily insurgent attacks and rebel clashes with U.S. troops and Iraqi security forces.

The attacks were the latest sign that insurgents are stepping up attacks against Iraq's security forces, which the United States hopes can assume a greater role in fighting the rebels once a newly elected government takes office.

The violence and kidnappings raise new concerns about security following a brief downturn in violence after the Jan. 30 elections, when Iraqis chose a new National Assembly in the first nationwide balloting since the fall of Saddam Hussein in April 2003.

A final tally was expected by Thursday, but initial returns point to a landslide by Shiite Muslim candidates endorsed by their clerics. Shiites are believed to comprise about 60 percent of Iraq's 26 million people.

On the other hand, many Sunni Arabs, estimated at 20 percent of the population and the core of the insurgency, are believed to have stayed home, either out of fear of rebel reprisal or because of a boycott call by Sunni clerics.

In Sweden, the Foreign Ministry said Monday that it was investigating reports that a Swedish citizen of Iraqi origin was kidnapped last month.

Foreign ministry spokeswoman Aasa Arvidson confirmed that a Swedish citizen in his 60s had been reported missing in Iraq and that Sweden's embassy in Amman, Jordan, was investigating the case.

"He is a Swedish citizen and has been living in Iraq for a couple of years," Arvidson said.

The missing man was identified by newspapers as Minas Ibrahim al-Yousifi, the purported leader of the Christian Democratic Party in Iraq. The Foreign Ministry refused to identify the missing man.

On Sunday, four Egyptian technicians were seized near the Mansour district of western Baghdad, Egyptian and Iraqi officials said. They worked for Iraqna, a subsidiary of the Egyptian firm Orascom Telecommunications, which operates the mobile phone network in Baghdad and central Iraq.

Six other Egyptians working for Iraqna were kidnapped in two separate incidents in September. All were ultimately freed although Orascom said at the time that it was committed to continuing its work in Iraq. No group claimed responsibility for the latest abduction.

On Friday, Italian journalist Giuliana Sgrena was kidnapped by gunmen who blocked her car outside Baghdad University. Sgrena, 56, is a veteran reporter for the communist daily Il Manifesto.

A group calling itself the Islamic Jihad Organization claimed Friday to have kidnapped the woman and gave Italy 72 hours to withdraw its troops from Iraq. But it made no threats to kill her or say what would happen if its demands were not met.

The purported kidnappers said in a statement posted Sunday on the Internet that they still were interrogating Sgrena and had given Rome a final warning to withdraw its troops from the country.

On Sunday, the U.S. command denied a report by an Iraqi police captain that 22 Iraqi security troops and 14 insurgents were killed Sunday night when rebels tried to storm a police station in a village south of Baghdad.

In a telephone interview with The Associated Press on Sunday, Capt. Muthana Khalid Ali of the Babil provincial police command had said the attack in Al-Bu Mustafa village, in the Mahawil district, about 50 miles south of Baghdad. He said the fighting raged for about an hour and five Iraqi national guardsmen and 17 police were killed, as well as 14 insurgents.

However, U.S. command spokeswoman Capt. Patricia Brewer said no attack occurred, citing provincial authorities. Capt. Ali later said he had misread the initial report.




Today's Top News
Top World News

Toll in Asian tsunami disaster tops 295,000




Wen: China to build a harmonious society




New bird flu vaccine capable of prevention




Bush proposes steep cuts in $2.57T budget




Israel, Palestinians to declare ceasefire




US forces storm Iraqi house, free Egyptians