First bodies found at Afghan plane crash site
(Agencies)
Updated: 2005-02-07 16:57
NATO-led peacekeeping troops have found the first bodies at the site where an Afghan passenger jet carrying 104 people hit a snow-covered mountain four days earlier.
At least three corpses were found on Monday when search teams finally reached the wreckage of the Kam Air Boeing 737-200 in a remote area near Kabul, after previous efforts to get there were thwarted by bad weather.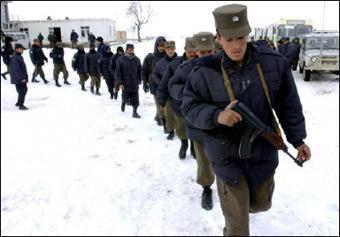 The first bodies have been found after an Afghan plane crashed near Kabul. [AFP]


"They have found three bodies," Afghan army general Ahmad Pia Yastali told an AFP reporter on board a helicopter flying over the site at Chaperi Ghar.

The nationalities of the victims were not known, he added.

Troops from the International Security Assistance Force (ISAF) contingent of peacekeepers based in Afghanistan (news - web sites) could be seen on the peak of the mountain.

"They have found human remains," confirmed ISAF spokesman Patrick Poulain.

The jet went missing on Thursday during a flight from the western city of Herat to Kabul. Among those on board were 24 foreigners -- six Americans, one Iranian, three Italians, nine Turks, a Canadian and four Russian crew members.

Its wreckage was spotted Saturday 30 kilometres (20 miles) east of the capital at an altitude of 3,000 meters (9,900 feet) after an intensive search.

Afghan defence ministry spokesman Mohammad Zaher Azimi said corpses appeared to be spread over a wide area of the steeply-sloped mountain.

The tail of the plane with the Kam Air logo could be seen on the top of the mountain while a piece of debris that looked like the engine could be seen further down on the other side, an AFP reporter said.

Afghan troops and police were on their way to the crash site and were hoping to get more soldiers to the area on Monday depending on weather conditions, Azimi added.

Medical experts were also due to go to the site but the work of identifiying the bodies would take place later, the general said.

A Slovenian military team belonging to ISAF was the first to reach the site, arriving by helicopter at 10:00 am (0530 GMT) on Monday, ISAF said.

The US embassy said Sunday that all those aboard were dead and the Afghan interior ministry said the previous day that it did not believe there were any survivors.

Kabul is surrounded by mountains. Afghanistan's rugged landscape, 40 percent of which is 1,800 meters (5,900 feet) or more above sea level, presents a challenge to pilots.

Kam Air is the first privately run Afghan airline and was launched in November 2003 with a fleet comprising a Boeing 767, a Boeing 727, an Antonov 24 and the Boeing 737 which crashed.

The airline connects several towns in Afghanistan and also has flights to Dubai in the United Arab Emirates.




Today's Top News
Top World News

New bird flu vaccine capable of prevention




Premier Wen gives New Year address




NATO troops reach wreckage of Afghan plane




EU not to impose quota on Chinese textiles




Domestic crisis looms as maids head home




Cities consider free premarital health checks