NATO troops reach wreckage of Afghan plane
(Agencies)
Updated: 2005-02-07 16:14
KABUL, Afghanistan - NATO troops reached the wreckage of an Afghan airliner Monday, four days after it crashed into a snowy mountain peak with 104 people on board, and began the gruesome task of sifting through the remains, an alliance spokesman said.
Officials hold out little hope for finding any of the 96 passengers and eight crew ¡ª including more than 20 foreigners ¡ª alive. Six American were believed to be aboard the flight.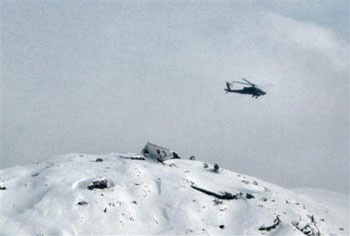 In this photo taken Saturday, February 5, 2005 by ISAF's AH-64 Apache helicopter and posted on the Web site of the International Security Assistance Force (ISAF), shows the crash site of a Kam Air Boeing 737 on the snow-capped mountain at Chaperi Ghar, Afghanistan. A NATO helicopter searching for an Afghan jetliner that disappeared during a snowstorm with 104 people aboard found what appears to be the wreckage of the plane Saturday February 5, 2005, in a area to the east of the Afghan capital, officials told the Associated Press. Officials believed none of the 96 passengers and eight - at least 24 of them foreigners - had survived, expected to be Afghanistan's deadliest. [AP]

Clear skies allowed helicopters to drop a small team of medics, mountaineers and explosives experts near the site, 20 miles east of Kabul, on Monday morning, an alliance spokesman said. There was no immediate word on what they saw.

"The weather is much better today, which allowed them to get to the top," Maj. Joseph Bowman said. "They're looking for survivors and trying to make the site secure" for more forces to join the operation, he said.

The Boeing 737-200, flown by Kam Air, Afghanistan's first post-Taliban private airline, vanished from radar screens Thursday afternoon as it approached Kabul airport in a snowstorm from the western city of Herat.

NATO helicopters spotted parts of the wreckage some 11,000 feet up Chaperi Mountain on Saturday, but freezing fog, low cloud and up to eight feet of snow had prevented alliance and Afghan forces from reaching the site by air or on the ground.

If the fatalities are confirmed, it will be Afghanistan's worst air disaster.

At Kabul airport, Slovenian mountain troops from Afghanistan's NATO-led peacekeeping force loaded supplies into helicopters heading to the crash site.

At the town of But Khak, German and French soldiers ran mine-detecting equipment over a makeshift landing pad that Afghan officials said would be used as a staging post once the first bodies are found and flown out.

Afghan soldiers set up a checkpoint on the nearby road to stop relatives and media from traveling to the foot of the mountain and getting in the way of the recovery operation.

They decided against halting one truck, full of relatives furious at the slow pace of the rescue operation, who insisted on mounting their own search for their loved-ones, but persuaded others that it was futile.

Awaz, an Afghan traveling along with 14 other family members in two sports-utility vehicles that stopped at the checkpoint, said he wanted to bring back the body of his 22-year-old brother, Baz Mohammed, before it was harmed by the extreme cold and by scavenging birds.

"I will know his face, or his shalwar kameez (baggy pants and shirt) or I will find his ID card in his pocket," said Awaz, who like many Afghans goes by one name.

On Saturday, the alliance released a photo of the plane's white tail fin jutting from the snow on a bleak ridge. No other wreckage or bodies could be seen, though NATO soldiers near the scene said larger sections littered the other side of the mountain.

Alliance officials said they were talking to local people to try to find a "back trail" through the daunting peaks for forces to reach the site on foot.

Afghan officials say air traffic controllers lost contact with the plane just after it was given permission to land. But the airline believes it turned away from Kabul toward Pakistan in search of an alternative air strip before it hit the mountain.

The mainly Afghan passengers included an army general and several businessmen.

Nine Turks, six Americans and three Italians were also believed to have taken the flight, though a final list has yet to be released. Airline officials say the crew was made of up of six Russians and two Afghans.

Afghanistan's most recent commercial crash was on March 19, 1998, when an Ariana Airlines Boeing 727 slammed into a peak south of Kabul, killing all 45 passengers and crew. The U.S. military has suffered a string of deadly air accidents in Afghanistan, most involving helicopters.




Today's Top News
Top World News

New bird flu vaccine capable of prevention




Premier Wen gives New Year address




NATO troops reach wreckage of Afghan plane




EU not to impose quota on Chinese textiles




Domestic crisis looms as maids head home




Cities consider free premarital health checks