20 killed in kites flying festival in Pakistan
(Xinhua)
Updated: 2005-02-07 14:39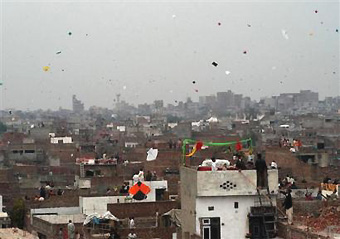 Participants and onlookers look up at Lahore's sky littered with hundreds of colorful kites during the kite flying festival, Basant, Sunday, Feb. 6, 2005, in Lahore, Pakistan. Pakistanis celebrate Basant festival by flying different kinds of kites, wearing colorful dresses, dancing and preparing special dishes for visitors to welcome spring, while tight security on the ground guarded against threats from hard-liners who condemn the revelry as un-Islamic. [AP]


At least 17 people including eight children lost their lives and more than 500 injured while celebrating Basant or kites flying festival Sunday in Lahore, capital of eastern Punjab province, taking the death toll to 20 as three people were killed on Basant night, The Nation reported Monday.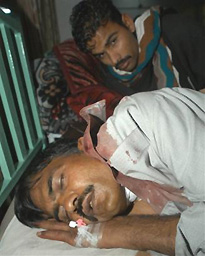 Mohammad Asharf, front, who was seriously injured when specially reinforced kite string cut his throat while he was riding on a motorbike, is attended by his brother at a local hospital in Lahore, Pakistan on Sunday, Feb. 6, 2005.

Seven persons were crushed to death while trying to catch stray kites, six others died after falling from rooftop of their houses, two teenage boys died after being hit by stray bullets in two different incidents, while a 7-years old boy was electrocuted and a four years-old girl was killed when a stray string slit open her throat.

Rescue officials said they picked up at least 24 patients whose throats were cut by twine at different roads and shifted them to hospitals.

Throughout the day, the city remained echoing with aerial firing and fireworks and peaked at the sunset.

Sunday's killing of 17 persons took the death toll to 20 in the night-and-day festival this year. Last year too, as many as 20 persons were killed in Lahore while celebrating the yearly Basant.




Today's Top News
Top World News

New bird flu vaccine capable of prevention




EU not to impose quota on Chinese textiles




Top banker: China on track to renminbi reform




Domestic crisis looms as maids head home




Cities consider free premarital health checks




Rice: US disagrees with EU on arms embargo