Iran 'years away' from nuclear weapon - Rumsfeld
(Agencies)
Updated: 2005-02-07 09:17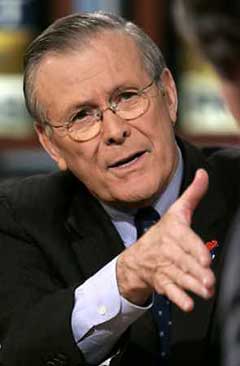 U.S. Secretary of Defense Donald Rumsfeld speaks on NBC's 'Meet the Press' television news program, February 6, 2005 in Washington, D.C. Rumsfeld talked about various issues including withdrawing the U.S. troops from Iraq. [Reuters]

WASHINGTON - Iran is believed to be years away from having a nuclear weapon and the United States has decided to use diplomacy, not military action, in dealing with the issue, Defense Secretary Donald Rumsfeld said on Sunday.

"It's fairly clear from the public statements of the Iranians that, that they are on a path of seeking a nuclear weapon and don't have it at the present time," Rumsfeld said in a taped interview with CNN's "Late Edition."

Iran's chief nuclear negotiator Hassan Rohani said in an interview with Reuters on Sunday that Iran would retaliate and accelerate its nuclear program if attacked.

The Bush administration has been severely criticized for going to war against Iraq in 2003 by using the justification that Baghdad had weapons of mass destruction, when none have been found since the invasion.

Rumsfeld was cautious about the accuracy of intelligence estimates on Iran's nuclear program.

"I don't make estimates, that's the business for the intelligence community. But they're (Iran) some years away according to the estimates, but I don't know if the estimates are correct or not," Rumsfeld told CNN.

"The president handles Iran policy, he's decided on a diplomatic route," he said. "They're on a diplomatic path."

Secretary of State Condoleezza Rice last week during a visit to Europe stressed diplomacy as the road to dealing with Iran's nuclear ambitions and said the United States had no immediate plans to attack the Islamic republic.

"...There's a good-faith effort under way by our European allies to try to resolve this issue diplomatically. We support that effort," Vice President Dick Cheney said earlier on "Fox News Sunday."

Cheney urged Iran to prove to the world it was not seeking a nuclear weapon and said Iran was "a potential source for instability" in the region.

"It's a regime, obviously, that we've got major problems with, not only because of their search for nuclear weapons, also the fact they've been a prime state sponsor of terror over the years," Cheney said.

"The Iranians, I think, should do the right thing, and they should, in fact, agree to transparency, reassure the outside world that they are not trying to acquire nuclear weapons," Cheney said.