22 Iraqi officers killed, 4 Egyptians kidnapped
(Agencies)
Updated: 2005-02-07 08:55
Insurgents attacked a police station south of Baghdad under cover of darkness Sunday, killing 22 Iraqi police and soldiers, police said. Gunmen seized four Egyptians technicians in Baghdad in the second kidnapping of foreigners in the Iraqi capital within a week.
Elsewhere, one U.S. soldier from Task Force Baghdad was killed and two others were wounded Sunday afternoon in a roadside bombing north of the capital, the U.S. command said. No further details were released.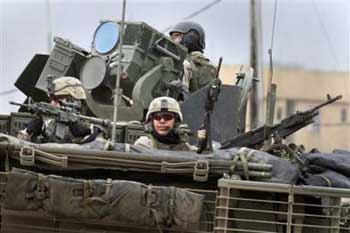 U.S. Army 1st Battalion, 24th Infantry Regiment soldiers pursue attackers in their Stryker combat vehicle after a firefight in Mosul, Iraq Sunday, Feb. 6, 2005. Their convoy was attacked by insurgents firing rocket-propelled grenades, mortars and small arms, but there were no casualties. [AP]

Fourteen attackers also died in the clash that broke out about 10:30 p.m. in Mahawil, 50 miles south of Baghdad, police Capt. Muthana Khalid Ali said. The dead included five Iraqi national guardsmen and 17 policemen, he said.

Earlier Sunday, the multinational command said two Iraqi national guard soldiers were killed and three more injured in a rebel ambush in the same area.

Two rockets also exploded near Baghdad International Airport and a third slammed into an Iraqi national guard building in a western suburb. No casualties were reported.

The attacks were the latest sign that insurgents are stepping up attacks against Iraq's fledgling security forces, which the United States hopes can assume a greater role in fighting the rebels once a newly elected government takes office.

The latest attacks and kidnappings raise new concerns about security following a brief downturn in violence after the Jan. 30 elections, when Iraqis chose a new National Assembly in the first nationwide balloting since the fall of Saddam Hussein in April 2003.

A final tally is expected by Thursday, but initial returns point to a landslide by Shiite Muslim candidates endorsed by their clerics. Shiites are believed to comprise about 60 percent of Iraq's 26 million people.

On the other hand, many Sunni Arabs, estimated at 20 percent of the population and the core of the insurgency, are believed to have stayed home, either out of fear of rebel reprisal or because of a boycott call by Sunni clerics.

The four Egyptians were seized early Sunday near the Mansour district of western Baghdad, Egyptian and Iraqi officials said. They worked for Iraqna, a subsidiary of the Egyptian firm Orascom Telecommunications, which operates the mobile phone network in Baghdad and central Iraq.

Six other Egyptians working for Iraqna were kidnapped in two separate incidents in September. All were ultimately freed although Orascom said at the time that it was committed to continuing its work in Iraq.

No group claimed responsibility for the latest abduction. On Friday, Italian journalist Giuliana Sgrena was kidnapped by gunmen who blocked her car outside Baghdad University. Sgrena, 56, is a veteran reporter for the communist daily Il Manifesto.

Her colleagues appealed Sunday to her captors to free her, citing the journalist's anti-American stance and saying that holding her would damage the image of Iraq.

"Her articles in Il Manifesto have always expressed opposition to the occupation war led by the United States," her colleagues said in a statement to Al-Jazeera television. "Keeping her captive and hurting her would amount to seriously damaging the cause of Iraq before the eyes of the world."

A group calling itself the Islamic Jihad Organization claimed Friday to have kidnapped the woman and gave Italy 72 hours to withdraw its troops from Iraq. But it made no threats to kill her or say what would happen if its demands were not met.

The purported kidnappers said in a statement posted Sunday on the Internet that they still were interrogating Sgrena and had given Rome a final warning to withdraw its troops from the country.

Sunday's statement, released in the same group's name, described Sgrena as an "Italian POW," and said her fate "will be announced by us in the near future."

The statement could not be verified and did not elaborate on her possible fate.

Earlier Sunday, a Web message appeared that was signed by the Jihad Organization. It threatened to kill Sgrena by Monday unless Italy agrees to withdraw its troops.

It wasn't clear if both statements came from the same group, given that the names were different. Neither statement included a picture of the woman or other evidence to support the claims.

Two other foreigners — Brazilian engineer Joao Jose Vasconcelos Jr., and French journalist Florence Aubenas — were believed kidnapped last month. Al-Jazeera aired a claim of responsibility for Vasconcelos by a group that showed his identification cards. No group has claimed responsibility for kidnapping Aubenas.

More than 190 foreigners have been taken hostage in Iraq since the U.S.-led invasion in March 2003, and some have been beheaded on graphic videos distributed on the Web or to Arab television stations.

The wave of abductions subsided after U.S. and Iraqi troops stormed the insurgent bastion of Fallujah, 40 miles west of Baghdad, last November, discovering what U.S. officials termed "hostage slaughterhouses."

However, the abductions of five foreigners in Baghdad within three days raised fears of a new wave of kidnappings.

Separately, an Iraqi civilian was wounded Sunday by a roadside bomb that exploded but missed an Iraqi police patrol in the southern port city of Basra, police said.

Attackers gunned down an Iraqi contractor who apparently worked with the U.S. military, and police in the Shiite city of Karbala reported that a suicide car bomber struck a U.S. convoy south of the city Sunday morning, destroying a U.S. vehicle. No casualties were reported.

Elsewhere in the city, gunmen fired rifle shots at a gasoline tanker truck, and the vehicle exploded into a huge ball of fire. No one was hurt, said police Capt. Mushtaq Talib, adding that the tanker was heading to an illegal port used by oil smugglers in the city.

In another attack, gunmen fired on a group of Iraqi policemen working to dismantle a roadside bomb on a main street in central Baghdad, injuring two officers, a police official said.




Today's Top News
Top World News

China on track to RMB reform




China to stop use of non-donated blood




Rice: US disagrees with EU on arms embargo




Domestic crisis looms as maids head home




Beijing expands pyrotechnic-free areas




Cities consider free premarital health checks