Domestic crisis looms as maids head home
By Wang Ying (China Daily)
Updated: 2005-02-07 06:53
The long holiday to celebrate the Year of the Rooster has given Beijing's wealthy residents something to crow about... A shortage of maids.
Thousands of housemaidsor ayihave returned to their home towns, leaving their masters with a domestic dilemma.
Rather than tackling the washing up and layers of dust themselves, many wealthy residents have turned to the scores of agencies that have sprung up offering holiday servants for hire.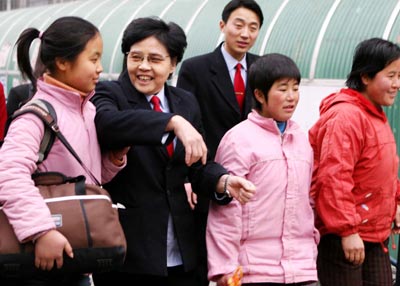 Several housemaids from Northwest China's Gansu Province arrive in Beijing January 28, 2005. [newsphoto]
But demand has been so high, many maidless families have been left disappointed.
Beijing resident Deng Ningxin had to book housemaid more than a month before the holidays when her full-time maid said she would be going home to Guizhou Province in Southwest China during the Spring Festival holidays.
"Last year I failed to find a housemaid during the holidays and my husband and I had to do the cleaning for a whole day, which made us really tired," Deng said.
"To secure a housemaid, I had to make early preparations this year," she added.
More than 60,000 maids are believed to have left their mop bucket and dusters for the traditional journey home to be with their families over the holiday.
And China's other metropolis including Shanghai and Shenzhen have also seen an exodus of home help.
However, the new year shortage merely exposes the overall scarcity of maids.
"Shortages of maids have become more serious in big cities in recent years, and is no longer only felt around major festive seasons of a year, but all year round," said Zhang Jianji, of the China Home Service Association.
"Thanks to economic growth in the regions that normally offer an endless supply of migrant workers, including Sichuan, Hunan, Guangxi and Jiangxi, locals are finding adequately paid employment nearer to home," added Zhang.
In Beijing, live-in housemaids earn between 500 yuan to 600 yuan (US$60-72) a month.
They have been turning their noses up at the 100 yuan (US$12) bonus payments offered by employers pleading with them to stay over the festival.
Beijingers pay less for home help than in the boom cities of Shanghai and Shenzhen where maids can earn up to 1,200 yuan (US$72-145) a month. Those with child care skills can earn around 2,000 yuan (US$242) a month.
Expats are willing to pay up to 4,000 yuan (US$484) for maids offering child care and language skills.
There is, however, some good news for city sloths.
Jobs do not remain vacant for long in Chinese cities and many migrant workers are capitalizing on the holidays to secure employment.
Beijing Community Service Centre, an agency providing holiday maids, has 7,000 new personnel on its books and is enjoying a mini-boom.
"Many households booked holiday housemaid services more than a month ago," said the agency's Di Zhixin.
The high demand has boosted payment by 20 per cent.
Di says many home helps feel little loyalty to their employers and have no qualms leaving them in the domestic lurch.
"To attract more housemaids, standard employment rules including training and work insurance system should be introduced in the sector," Di said.
Wang Haiyan, in her early 20s, arrived in Beijing to serve as a housemaid just a month ago from her hometown in Southwest China's Sichuan Province.
Wang arrived against the outward flow as she had heard it was easier to find work in holiday seasons.
"I am getting on quite well with my client family and I don't mind leaving my home during the Spring Festival," Wang said.
It is estimated that 223,000 households in Beijing will hire full-time domestic helpers over this year, and another 225,000 will employ part-time maids.
Today's Top News
Top China News

New bird flu vaccine capable of prevention




EU not to impose quota on Chinese textiles




Bush's 05 budget to tighten Americans' belt




Top banker: China on track to renminbi reform




China to stop use of non-donated blood




Rice: US disagrees with EU on arms embargo