China to stop use of non-donated blood
(Xinhua)
Updated: 2005-02-07 03:26
China will eliminate the use of non- donation blood in hospitals within three years, China's Ministry of Health announced at a press conference Sunday.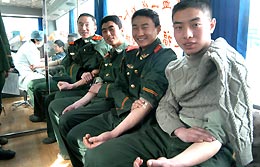 Armed police in northwest Gansu Province donated blood on February 2, 2005. [newsphoto/file]

Wang Yu, deputy director of the ministry's medical policy, said blood donation would replace blood bought from people and would account for 100 percent of clinical blood usage by 2008.

Before 1998, most of the blood used in Chinese hospitals was bought instead of donated. This led to rampant blood sales and ensuing infectious diseases.

The country's official number of HIV cases reached 840,000 in 2004, most of which were caused by illegal blood transactions in the 1990s.

The Chinese government has encouraged volunteer blood donation since enacting a law in 1998 designed to curb soaring blood-born infectious diseases.

In the past six years the percentage of donated blood used in medical work has increased from 5.47 percent in 1998 to 71.5 percent in 2004.

Problems remain, however, as not every province implements the policy seriously.

Shanghai, Tianjin, Beijing, and Tibet are the worst offenders, with their respective donated blood percentages much lower than the national average.

"Blood sales are still common in those regions," Wang said.

The ministry will release new rankings every six months, Wang said, in the hope that public opinion will put pressure on those areas that continue to violate the rule.




Today's Top News
Top China News

China on track to RMB reform




China to stop use of non-donated blood




Rice: US disagrees with EU on arms embargo




Land prices surging up steadily




No major change in textile trade with EU




New bird flu vaccine capable of prevention