New bird flu vaccine capable of prevention
By Zhao Huanxin (China Daily)
Updated: 2005-02-07 02:00
Chinese scientists claim to have developed a vaccine to prevent the spread of the killer bird flu.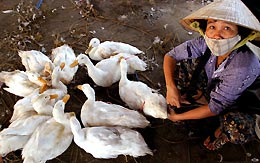 A Vietnamese farmer displays ducks for sale at a roadside market in Vietnam's Long An province February 6, 2005. [Reuters]

The Ministry of Agriculture says its new vaccine can effectively "cut a key link in the transmission chain of the highly pathogenic avian influenza among water fowl."

Using a technique called reverse genetics, scientists at the Key Laboratory of Animal Influenza, affiliated to Harbin Veterinary Research Institute, altered the genome sequence of the virus to construct a vaccine that is believed to be safe to both poultry and mammals.

The vaccine will be administered to fowls in the country's key water areas, including rivers and lakes, a ministry statement released yesterday.

Laboratory tests show the vaccine enables ducks and geese to fight H5N1, the highly lethal strain of bird flu, three weeks after the flocks were vaccinated, the statement claimed.

The new vaccine also provides at least 10 months of protection for chickensfour months longer than the existing bird flu preventive drugs.

"China has developed and mass-produced shots targeting H9 and H5N2, the less dangerous subtypes of avian influenza," Xu Shixin, a division director of the Veterinary Bureau of the Ministry of Agriculture, said yesterday.

The bureau has released a certificate for the new vaccine as a registered veterinary drug.

Ministry sources said the new vaccine had overcome the bottleneck in the technology of developing a remedy for preventing "highly pathogenic bird flu."

Apart from the encouraging laboratory test results, field tests also indicate that upon receiving two shots of the vaccine, ducks and geese can each produce antibodies effective for 10 months and three months, respectively.

The birds could then fight the H5N1 strain of virus.

"The vaccination thus makes it impossible for ducks and geese to become the load of H5 subgroup bird flu virus. Therefore, it can cut a key link for the highly pathogenic avian influenza to spread," said the ministry statement.

China developed advanced bird flu virus test technology (RT-PCR reagent kit) last April. This can detect H5, H7 and H9 subgroups of the bird flu simultaneously in several hours.

Vaccination is a must for water fowls and poultry farms in Chinese regions at high risk, according to a national tele-conference in bird flu prevention on January 28 in Beijing.

Elsewhere in Asia, the Cambodian Ministry of Health and the World Health Organization (WHO) confirmed on Saturday a 25-year-old woman from Kampot Province, who died of respiratory illness in Viet Nam on January 30, was infected with avian influenza.

This is the first human case of avian influenza in Cambodia, according media reports.

Hundreds of wild birds have died of avian influenza in central Thailand in the past two weeks.




Today's Top News
Top China News

New bird flu vaccine capable of prevention




EU not to impose quota on Chinese textiles




Bush's 05 budget to tighten Americans' belt




Top banker: China on track to renminbi reform




China to stop use of non-donated blood




Rice: US disagrees with EU on arms embargo