Half of all fireworks do not meet standards
By Zheng Yanyan (China Daily)
Updated: 2005-02-07 02:00
Nearly half of all fireworks made in China fail to meet basic quality standards, according to a survey released recently.
"The production and standards of many small and medium-sized fireworks producers in townships and villages do not meet State requirements," said Zhang Guanghua, director of the Chemical Safety Supervision and Management Department under State Administration of Work Safety.
The spot check was conducted on 120 fireworks enterprises from seven provinces by the State Administration of Quality Supervision and Inspection and Quarantine.
It found that only 56.7 per cent of the fireworks checked met quality standards.
Among the 120 brands of fireworks, 36.7 per cent failed the inspection due to too-short or too-long blasting fuses, which could potentially explode and cause injury if the person does not move away in time or gets too close.
Another major defect found was the use of banned chemicals in the fireworks, substances that easily burn or explode.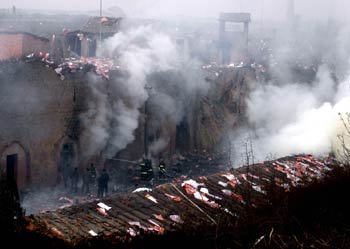 Firefighters try to put out fire after a blast ripped through a fireworks factory in North China's Shanxi Province January 11, 2005. Twenty-five people were killed in the blast, another 9 injured. [newsphoto]

One-fifth of the products were found to have hidden safety problems, which could lead to fire or detonation too close to the ground.

The packaging of 19 of the brands was not in line with requirements, defects that could lead to accidents in transportation or storage.

Inferior fireworks cause fire and injuries every year in China, and they pose a great threat to public safety.

"Those workshops are to be phased out or developed into more advanced factories," Zhang said.

The watchdog will bring management to account and get producers back on the right track, she added.

In March, five new national standards on fireworks will come into effect to guarantee quality improvements.

Fireworks standards are a major concern for the public during this, and other, festive seasons as it is traditional to celebrate with fireworks.

"Every lunar New Year, we set off fireworks to celebrate the festival and have a great time," said Han Xiaofei, from Tieling, Northeast China's Liaoning Province.

In the city's Changtu County, a tragic explosion took place in December 2003 which killed 38 and wounded another 44.

Han's family always takes protective measures when lighting fireworks, because small quality problems are common, he said.

(China Daily 02/07/2005 page3)




Today's Top News
Top China News

China to stop clinical use of non-donated blood




Rice: US disagrees with EU on arms embargo




Land prices surging up steadily




No major change in textile trade with EU




Nation on track to RMB reform




New bird flu vaccine capable of prevention