Official: No need to feel panic about meningitis
(Xinhua)
Updated: 2005-02-06 09:04
The present meningitis cases in China are just "normal and sporadic" and people need not feel panic, the Executive Vice-Minister of Health Gao Qiang said Saturday.
Of the total 258 cases in 28 provinces, autonomous regions and municipalities of China in January, 49 were found in 21 counties and districts of east China's Anhui Province, 30 cases in 23 counties and districts of central China's Henan Province, 19 cases in 17 counties and districts of north China's Hebei Province, 16 cases respectively in Jiangsu and Sichuan provinces.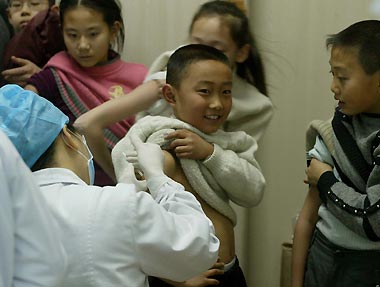 Eight-year-old Xu Zhihong has vaccination for meningitis at the Beijing Centre for Disease Prevention and Control on February 2, 2005. [newsphoto]
The rest 128 were scattered in 23 provinces, autonomous regions and municipalities, with each reporting less than 10 cases, statistics released by the Health Ministry show.
Gao said the disease will not affect the ordinary activities of people during the Lunar New Year. "It's sporadic and no severer than previous years for the time being," he said.
Official figures reveal that 2,250 meningitis cases were reported in 2001, 2,551 in 2002, 2,535 in 2003, and 2,698 in 2004.
"Although the total number of cases reported in January this year was higher than that of the same period in 2004, it was lower compared with the corresponding period of 2003 and 2002," Gao said.
He also noted that China in recent years has maintained an annual infection rate of about 2 among 1 million people on average, which is lower than that of the United States and some European countries across the world.
Today's Top News
Top China News

China sets no timetable on currency change




China could be world's No. 3 auto producer




All 104 aboard Afghan jet believed dead




Direct flights a hit with New Year passengers




China to attract more foreign experts: Premier




Nine dead in Japan, apparent group suicide