Call made from phone of abducted Italian in Iraq
(Agencies)
Updated: 2005-02-06 08:53
A friend of Italian journalist Giuliana Sgrena, who was kidnapped in Baghdad on Friday, received a call on Saturday from Sgrena's telephone but it was unclear who was at the other end of the line.
Barbara Schiavulli, a correspondent for Italian radio news agency GRT, saw Sgrena's number appear on her telephone screen but when she answered she heard only Arab music and no one spoke, an editor at GRT in Rome said.
"The call lasted only a short moment and then the line was cut off. Barbara tried to call back but she couldn't get through. It was impossible to know if the call was intentional or if it was an accident," Simona D'Alessio told Reuters.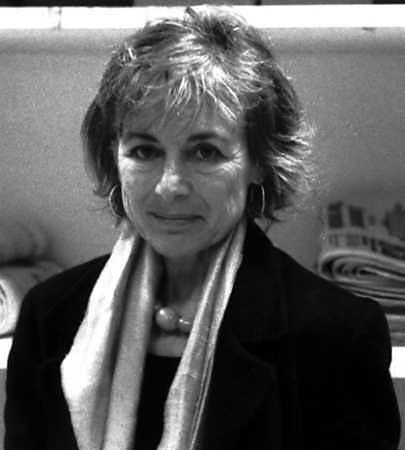 A friend of Italian journalist Giuliana Sgrena, who was kidnapped in Baghdad on Feb. 4, received a call on February 5, 2005 from Sgrena's telephone but it was unclear who was at the other end of the line. Sgrena who was kidnapped in Baghdad on February 4, 2005 as she conducted interviews on the street, the Italian government said. [Reuters]

In the first abduction of a foreigner since the Iraqi elections last Sunday, Sgrena, a correspondent for Rome-based Communist newspaper Il Manifesto, was snatched from the street while she was interviewing people near Baghdad University.

Her father Franco spoke on Italian television on Saturday to plead for her release. "My daughter was always against the war and for peace," he said, tears in his eyes and his voice shaky.

Prime Minister Silvio Berlusconi said on Friday Italy was working to secure Sgrena's freedom.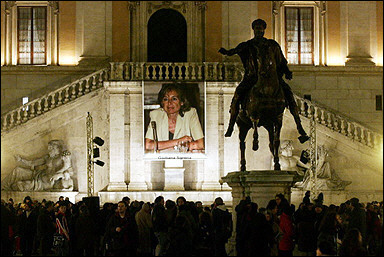 A giant poster showing Italian journalist Giuliana Sgrena is displayed on Capitoline hill, central Rome. Sgrena, 56, a correspondent for the leftist Il Manifesto daily, was abducted after visiting a mosque in Baghdad. [AFP]

Foreign Ministry Under-secretary Alfredo Mantica arrived in Kuwait on Saturday and said Rome would seek the Gulf state's help in trying to gain Sgrena's release. He said he believed the kidnappers had political motives.

Asked whether Italy would withdraw its forces from Iraq as demanded in an Internet statement purportedly from the kidnappers, he said: "Absolutely not."

Interior Minister Giuseppe Pisanu was quoted as saying he hoped those who abducted her did so for political reasons. He had said earlier she was probably taken by Sunni insurgents.

"If it's political, they will discover that the journalist is one of those who have always supported their cause," he was quoted as saying in three Italian newspapers on Saturday.

Il Manifesto was virulently opposed to the U.S.-led invasion of Iraq and is very critical of U.S. policies there.

The 57-year-old, award-winning journalist was a veteran of many war zones.

Her kidnap caused nationwide emotion and dominated news bulletins, where it knocked news of Pope John Paul's health off the top spot for the first time since Tuesday night, when the Pontiff was rushed to hospital with breathing problems.

At a rally to show solidarity with Sgrena on Rome's Capitoline Hill, a giant photograph of her face was unfurled on the facade of the city hall.

Simona Pari and Simona Torretta, aid workers whose release caused national joy in Italy in September after they were held hostage in Iraq for three weeks, took part in the rally.

A little-known Iraqi group, the Islamic Jihad Organization, said it had taken Sgrena hostage and set a 72-hour deadline for Italy to remove its troops but did not make a specific threat against her. It was not possible to verify the statement.




Today's Top News
Top World News

China sets no timetable on currency change




China could be world's No. 3 auto producer




All 104 aboard Afghan jet believed dead




Direct flights a hit with New Year passengers




China to attract more foreign experts: Premier




Nine dead in Japan, apparent group suicide