Rockets hold off Timberwolves 119-113 in OT
(Agencies)
Updated: 2005-02-05 15:30
Tracy McGrady had 40 points, 13 rebounds and a clutch 3-pointer in overtime to lead the Houston Rockets to a 119-113 overtime victory over the Minnesota Timberwolves on Friday night.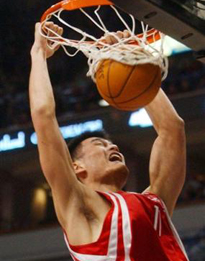 Houston Rockets' Yao Ming, of China, slams dunk in the fourth quarter on his way to scoring 23 points as the Rockets beat the Minnesota Timberwolves, 119-113, in overtime Friday, Feb. 4, 2005, in Minneapolis. [AP]

Yao Ming added 23 points and 14 rebounds, and Juwan Howard had 13 points and 14 rebounds for the Rockets, who took a 112-107 lead with 2:05 left in the extra period on McGrady's fourth 3-pointer of the night.

Sam Cassell had 24 points and 11 assists, but missed a potential game-winner for the Timberwolves at the end of the fourth quarter.

Kevin Garnett had 22 points and 14 rebounds, Trenton Hassell scored a season-high 19 points and Wally Szczerbiak added 18 as Minnesota lost its fourth straight and was outrebounded for the ninth consecutive time.

The Wolves, who went 3-for-10 from the field in overtime, cut it to 115-113 on a driving layup by Cassell with 13.5 seconds remaining. But McGrady made four free throws in the closing seconds.

This was an important game for playoff positioning, because the Rockets (26-22) and Timberwolves (24-23) entered as the seventh- and ninth-place teams in the loaded Western Conference.

Sura and Cassell, once teammates at Florida State, each missed long field goals with less than 2 minutes to go in regulation. Sura's next attempt was off again, but Cassell sank a vintage 17-footer over David Wesley that gave the Wolves a 104-102 lead with 27 seconds remaining.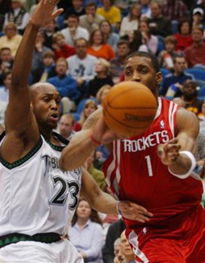 Houston Rockets' Tracy McGrady, right, passes the ball in the third quarter as Minnesota Timberwolves' Trenton Hassell (23) defends Friday, Feb. 4, 2005, in Minneapolis. [AP]

McGrady answered with a smooth jumper that retied the game with 12.8 seconds left, and Cassell ¡ª repeating the same shot ¡ª came up short this time.

After a 29-point loss to Phoenix at home on Wednesday night, the Timberwolves skipped practice ¡ª per usual routine following back-to-back games. They went together across the street to an arcade for some bowling, rejuvenation and rekindling of their camaraderie.

Minnesota built a 33-26 lead after one period and was in front for most of the first half ¡ª playing with more energy than earlier in the week.

Third quarters haven't been kind to the Wolves, who were significantly outscored (31-17 by Sacramento, 23-11 by Milwaukee and 35-15 by Phoenix) during the period while losing their past three games.

And this one was no different, with the Rockets outscoring them 29-21 en route to a 83-79 lead.

Yao, who fumbled with the ball often and looked out of his element in the first half, got it going after halftime and scored seven points in the third.

Houston went 9-for-12 from the foul line, and Minnesota never even made it there. The Rockets grabbed seven offensive rebounds, and the Wolves got one.




| | |
| --- | --- |
| | |
| Spurs vs Lakers | |

| | |
| --- | --- |
| | |
| Sharapova in Pan Pacific Open | |

| | |
| --- | --- |
| | |
| Women's Soccer: China 0-2 Germany | |
Today's Top News
Top Sports News

College girls step into beauty controversy




US Congress move on RMB unproductive




Trains take the holiday travel strain




Japan to talk about end of China loans - media




US general: it is 'fun to shoot some people'




Female journalist kidnapped in Baghdad