Something to crow about in the year of rooster
(China Daily)
Updated: 2005-02-05 09:31
The approaching Chinese New Year is never simply four numbers, 2005. But for Chinese, it is all about a rooster.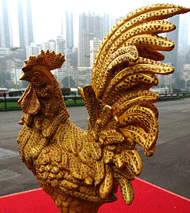 A gold rooster weighing 3.9 kg with 800-carat diamond studded was made in Hong Kong to usher in the rooster year. [sohu]

Various "roosters" made of gold, wood, plastic, paper, shell and stone are on sale in every street corner to salute the animal's return. The rooster is among the dozen animals - rat, ox, tiger, rabbit, dragon, snake, horse, sheep, monkey, rooster, dog, pig - associated with the 12-year rotation of people's birth dates.

Traditional Chinese customs attach rich connotations to each animal. So what about the rooster?

First of all, the lucky person born in the year is focused and self-disciplined.

In the ancient times when there were no clocks, cocks told the nation it was time to get up and start work.

Diligent ancient Chinese, therefore, held the poultry early riser in high regard.

Roosters are also traditionally considered as auspicious birds that can exorcize evil spirits.

That is because folklore says all the evil and ghosts that swirl around at night leave once cocks make their morning calls.

Now, it is still popular in everyday life for Chinese to sacrifice roosters in exchange for protection from the gods.

Due to their hardworking nature, roosters often belong to grassroots people who earn enough to get by.

Despite such a "plain" life, the animal enjoys a good reputation for its bravery and courage, particularly among soldiers.

Cockfighting was a fad in ancient China that always attracted large crowds due to its fierce and exciting atmosphere.

Many ancient and modern Chinese hold to the belief that each person's character and fate are deeply affected by the year of their birth.

Therefore, those who were born in the Year of the Rooster are also supposed to be diligent and talkative.

Since the bird wakes people up every day with its loud and inspirational crowing, it is thought those who were born in the year are conscious of fashions.

They are meticulous when it comes to budgeting and may have small incomes. To their dismay, they are never considered lucky enough to be rolling in it.

They are regarded as arrogant and boastful, tending to ignore others.

History shows a vast number of important Chinese were born in the Year of the Rooster - emperors, re-volutionaries, philosophers, engineers and artists.

Mencius (390-305 BC), renowned politician, philosopher and educator during the Warring States Period (475-221 BC), was one of the most famed "roosters."

A fellow of Confucianism, Mencius travelled between kingdoms to lobby his ideas, which attached importance to benevolent governance and grassroots people.

Like Confucius, Mencius also advocated the idea that "human beings have kind natures."

Liu Che (156-87 BC), the sixth emperor of the Western Han Dynasty (206 BC-AD 24), is another "rooster."

The 50 years he was in power was during the peak of the dynasty. The emperor made prominent military, political, economic and cultural achievements.

He twice sent an envoy, Zhang Qian, to the Western Regions, then referring to the area west of Yumenguan in Gansu Province, including today's Xinjiang Uygur Autonomous Region and parts of Central Asia.

The endeavours helped strengthen the ties between the Hans and the people in the region, and played an important role in China's process of becoming a multi-nationality nation.

Now he is the subject of one of the most popular TV serials.

"The Great Emperor Wu of the Han Dynasty" (Han Wu Da Di) show is about his illustrious life.

Another two famous "rooster kings" were Yang Jian (AD 541-604), founder of the Sui Dynasty (AD 581-618), and Li Longji - an influential emperor of the Tang Dynasty (AD 618-907).

Yang created a highly-centralized hierarchy and an imperial examination system to select officials, both of which were copied in following dynasties.

Li's period of governance witnessed the most prosperous society of Tang, as he launched a series of important reforms.

The cleverest "rooster" in Chinese history may be Zhuge Liang (AD 181-234), a household name in the country for his shrewdness and military genius.

Zhuge was a famous strategist in the Three Kingdoms Period (AD 220-280) whose image, featuring a feather fan, is often seen in movies and TV series.

Great poet and politician Wang Anshi (1021-1086) of the Song Dynasty (960-1279), "Chinese Shakespeare" Tang Xianzu (1550-1616), the most gifted playwright of the Ming Dynasty (1368-1644), and prominent revolutionary Liang Qichao (1872-1929) in the transitional times between the Qing Dynasty (1644-1911) and contemporary China are all "rooster celebrities."

Last but not least, Zhan Tianyou (1861-1919), a top contemporary engineer in China, was also born in the year.

Among the first returned overseas Chinese students, Zhan designed the Beijing-Zhangjiakou Railway, the first of its kind to be completely designed and constructed by Chinese.

Ancient Chinese believed the rooster was a symbol of loyalty, bravery, benevolence, propriety and faith.

And 5 pm to 7 pm was said to be the time of the rooster, as that is when the birds would rest.

The rooster is also linked to the south and fire, in Chinese astrology.

Since ji (the rooster) has the same pronunciation in Chinese as "good luck," ancient Chinese preferred to paste pictures of roosters on doors and windows in a bid to bring good luck to the whole family.

'Roosters' express New Year wishes

Chen Ying, 12, student at Chennan Primary School of Chenghai District, Shantou, South China's Guangdong Province

Born in July 1993, Chen says he has two wishes as his second Year of the Rooster approaches.

"One is, of course, for me. I hope I can get better academic marks," said Chen.

He admits that last semester's academic performance was not that good.

"I'm going back to the school for extra curricula study during the winter holidays, in an effort to be well prepared for study in the new Rooster Year, to realize the wish," he says.

"The other is for my elder brother and me. I hope we can keep getting along with each other better, and be good boys in the New Year as my parents say we're always naughty.

"Since we are growing up, and are no longer little children, we should try to do better, so our parents don't have to worry."

Li Ya, 24, employed at the Beijing Crane Machinery Research Institute

"The monkey (year) is on the way out and here comes the rooster. I hope I don't have to get up as early as a rooster each day," Li jokes.

After graduating from a Beijing university last year, he began working at the company.

Since his home is far from the office, Li rises about 6 am every day.

In the past six months, he has been working his way up from a newcomer to a qualified mechanical designer.

In spite of a low income and too much time in the office, Li is fairly satisfied with the job.

"The work is interesting and I learn a lot," he explains.

He hopes his boss will give him more opportunities to prove his ability.

A pay rise, Li adds, is another New Year's wish.

Li's family recently spent much of their savings to buy a new apartment in the eastern suburb of Beijing.

"I want to do everything in my power to share in all of the expenses," says Li, who is the youngest son in the family.

Li also hopes his father, who suffered from a stroke last year, will regain his health.

"Last but not least, I'd like a peaceful and happy Year of the Rooster as I experienced much troubles this year."

Ma Zhefei, 36, works for the China Guardian Auction Co Ltd in Beijing, allegedly the largest art auctioneer in the country.

Ma joined the company four months ago after having been an art editor and writer for about a decade.

"I covered the art market as a journalist and wanted to know the other side of the story - how it feels to be personally involved in China's exciting art market," he says.

Ma's new job is exciting but he misses aspects of being a journalist, when he could make his own schedule rather than staying in an office from 9 am to 6 pm, as he does today.

"I used to get up at 11 in the morning, and now at seven. I'm still suffering from daily 'jet lag.'" he says.

"Anyway, it's the Year of the Rooster and roosters are really early birds."

Ma says he does not believe the traditional Chinese saying that one will have extreme fortunes or misfortunes every 12th year after their birth.

"Nothing that important happened to me when I was 12 or 24," he says, adding he will not follow the local custom of wearing red waist belts and socks in his special year, which is believed to help people escape from misfortune.

Ma also scoffs at the traditional belief prevailing northern China that one should never get married this year.

"I really want to get married," the handsome bachelor says bitterly.

"But I cannot find anyone whom I want to marry and who wants to marry me."

Xu Yongfeng, 60, lives in a village in Nanxiong County in the northern part of Guangdong, southern China

"I want my youngest son to get married in my fifth Year of the Rooster, and to have a big family reunion," says Xu.

Born in 1945, Xu has three sons, none of whom work in Nanxiong.

Xu says family reunions have been rare in the past years since her sons are busy with their careers.

For the past few years, all she has been doing is looking after her two granddaughters.

Most Chinese people believe the Year of the Rooster is a bad time to tie the knot as it falls on February 9, while February 4 is "lichun" - the actual start of spring.

Some people in the northern part of the country regard the upcoming year as a "widow year," when marriage is to be avoided.

However, Xu says she is not too superstitious. "I don't really care for all of that, I'd be happy for my youngest son to get married."





| | |
| --- | --- |
| | |
| Fashion show in Barcelona | |

| | |
| --- | --- |
| | |
| Nicole wins top skin award | |

| | |
| --- | --- |
| | |
| 'Baby lips' Blair earns admirer's kiss | |
Today's Top News
Top Life News

College girls step into beauty controversy




Trains take the holiday travel strain




RMB no scapegoat for US woes




Japan to talk about end of China loans - media




US general: it is 'fun to shoot some people'




Female journalist kidnapped in Baghdad