NFL boss plans to stage exhibition games in China
(Agencies)
Updated: 2005-02-05 09:30
US's National Football League commissioner Paul Tagliabue plans to travel to China in May to speak with government officials about staging two exhibition games there before the 2008 Olympics.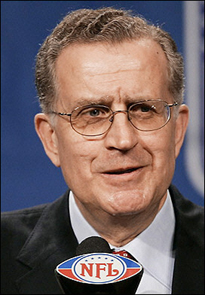 NFL Commissioner Paul Tagliabue, seen here addressing the media in Jacksonville, Florida, plans to travel to China in May to speak with government officials about staging two exhibition games there before the 2008 Olympics[AFP]

During his annual pre-Super Bowl news conference here Friday ahead of New England's title showdown Sunday against Philadelphia, Tagliabue announced the trip as part of a global push by the 32-team American football circuit.

"I'm going to China in early May to have first-hand discussions with their government about playing two pre-season games over there," Tagliabue said. "We have made advances there and we will continue to do so."

NFL teams could travel to China for games in Beijing's Olympic stadium that could be used as test events for the facility before the city plays host to the 2008 Summer Games.

The NFL's Chinese initiative comes at the end of the first season of a five-year deal between the league and Shanghai Media Group (SMG) to promote and televise American football to China.

"This Super Bowl broadcast and our long-term partnership with SMG will help introduce the NFL to millions of potential fans in China," NFL International Media Director Michael Luscher said.

SMG also helped launch an NFL website in China and will support the fifth world championship of flag football later this year in either Beijing or Shanghai.

The more casual version of the American game features no pads and tackling is done by pulling a flag from a belt.

Tagliabue praised the first NFL player to come from such international youth development programs. Germany's Constantin Ritzmann played defensive end for Buffalo this season after two years of major US college football at Tennessee.

"In the next two or three years there will be more and more international players and in the next decade you will see international starters in the NFL," Ritzmann predicted. "I don't think we're far away."

Tagliabue also said the league is looking into the possibility of staging a regular-season game outside the United States for the first time, a step that North American baseball, basketball and ice hockey leagues have already made.

Toronto and Mexico City, in neighboring nations with no time zone troubles for US telecasters, would likely receive top consideration, although pre-season exhibitions have been shown live from Japan and Europe in past years.

"If that became possible, to take a regular-season game away from the fans in the home stadium of one of our teams, one of the places that would get serious consideration would be Mexico City," Tagliabue said.

"If we don't go in that direction, I'm sure we would be back with American Bowl games."

Tagliabue also said that he could forsee the day when an NFL team is located in a non-US city, as is the case with all other major North American sports.

"My guess is it will happen. It's impossible right now to have a timetable," Tagliabue said. "It could be very likely the next franchises in the NFL are outside the US, certainly Toronto, certainly Mexico (would be considered)."

But NFL developmental clubs have failed in recent years in London, Barcelona and Scotland. NFL Europe currently features five German-based teams and the Amsterdam Admirals.




| | |
| --- | --- |
| | |
| Spurs vs Lakers | |

| | |
| --- | --- |
| | |
| Sharapova in Pan Pacific Open | |

| | |
| --- | --- |
| | |
| Women's Soccer: China 0-2 Germany | |
Today's Top News
Top Sports News

College girls step into beauty controversy




Trains take the holiday travel strain




RMB no scapegoat for US woes




Japan to talk about end of China loans - media




US general: it is 'fun to shoot some people'




Female journalist kidnapped in Baghdad