Rice says diplomacy can succeed in Iran
(Agencies)
Updated: 2005-02-05 09:21
US Secretary of State Condoleezza Rice joined British and German allies pledging Friday to help Israel and the Palestinians seize an opening for peace in the Middle East. They also said diplomacy can neutralize a nuclear threat in Iran.
"Now is the time for our diplomacy to put our alliance to work in the service of great goals and great opportunities that stand before us," Rice said.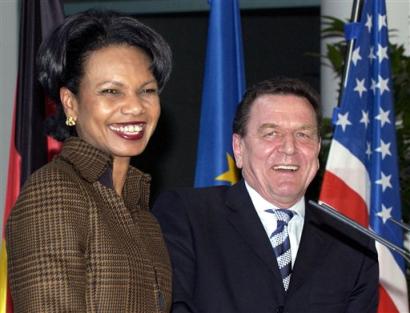 U.S. Secretary of State Condoleezza Rice, left, and German Chancellor Gerhard Schroeder answer reporters' questions during a news conference in Berlin on Friday, Feb. 4, 2005. Rice is on her first trip as Secretary of State to Europe and the Middle East. [AP]

Calming waters still troubled by the U.S.-led war in Iraq is a major aim of Rice's weeklong trip through Europe and the Middle East. Rice's jammed schedule takes her to two or three countries each day of the trip, her first abroad as America's new top diplomat.

She seemed to make headway in Germany, where Chancellor Gerhard Schroeder's government fiercely opposed the war and refused to commit troops.

"We have discussed this topic at length and we very strongly agree that what the country now needs is a perspective towards the course of democracy and stability for its future," Schroeder said after an hourlong meeting with Rice. "We are very much agreed on this purpose and on this being the important point, irrespective of what one thought about the military intervention in Iraq in the first place."

Rice urged the world to support Iraqis after voters in national elections Sunday "demonstrated they are prepared to set aside fear and their past and try to build a new and free society."

British Foreign Secretary Jack Straw called the Israeli-Palestinian conflict "the most difficult and pressing challenge facing the whole international community," but one that can be solved "with wholehearted international support."

The stalled peace process has gained new life since the death of Palestinian leader Yasser Arafat last year. Rice visits Israel and the West Bank over the weekend and other leaders will attend a preliminary peace meeting in Egypt next week.

"We very much hope that we can use this momentum because we feel it is in the air," Schroeder said.

Those hopeful notes about the broader Middle East region come atop Rice's unusually strong language in recent days condemning the religious leadership in Iran for alleged human rights abuses and deceit about its nuclear program.

Rice toned down the rhetoric Friday and sought to play down the possibility that the United States might invade or attack Iran.

"Diplomacy can work in this case if there is unity of purpose and unity of message to the Iranians that the international community expects them to live up to their obligations," Rice said in Berlin.

An attack "is simply not on the agenda at this point. We have diplomatic means to do this," Rice said in London, where she met with British Prime Minster Tony Blair before seeing Straw.

Britain, Germany and France are leading a European diplomatic campaign to end Iranian nuclear weapons ambitions. The United States has not joined that effort.

The Bush administration has accused the Iranians of using a legitimate civilian nuclear power program to hide an illegitimate weapons program. Rice has called Iranian behavior loathsome, and said the regime continues to "play games every time they can."

That rhetoric echoes the Bush administration's claims during the first term that prewar Iraq possessed weapons of mass destruction and that its then-dictator, Saddam Hussein, needed to be held to international account.

Although the Bush administration has said nothing publicly to push for military action next door in Iran, there is some international suspicion that the United States might do so in Bush's second term.

Rice would not say whether the United States supports a change of government in Iran, although U.S. officials have previously said there is no such goal.

"The behavior of the Iranian government, both internally and externally, is of concern to an international community that is increasingly unified around the view that values matter; that the Middle East is a place that is in need of reform and change," Rice said in Berlin. "I see no difficulty in continuing to say that and continuing to work for that."