Sportsview: Bryant's team isn't very good
(Agencies)
Updated: 2005-02-05 09:11
So there was Kobe Bryant, fresh from a personal ownership briefing on the state of the Los Angeles Lakers, making his appearance courtside at Staples Center.
Clad in black with a white collar and a hugely oversized crucifix dangling from around his neck, it was hard to tell if Bryant was there to heal Rudy Tomjanovich or bless Phil Jackson.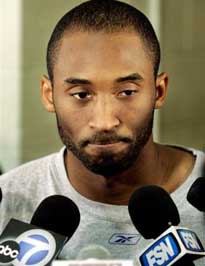 Los Angeles Lakers' Kobe Bryant reacts to the resignation of head coach Rudy Tomjanovich citing health concerns brought on by the job, at Lakers training headquarters in El Segundo, Calif., Wednesday, Feb. 2, 2005. [AP]

Maybe it was both. Owner Jerry Buss surely believes Bryant is that good.

One thing was for sure, Bryant wasn't there to play, though that doesn't appear to matter much these days with the Lakers. Bryant has missed the last 10 games with a sprained ankle, which is enough time to come up with a few conclusions about the Lakers midway through the NBA season.

First, this a mediocre team with Bryant, and even worse without him. They're so mediocre that it looks increasingly likely the Lakers will miss the playoffs for the first time since 1994 — no matter how healthy Bryant is.

Second, while Bryant is an extraordinary player who sells tickets, he still hasn't proven he's the Michael Jordan of this generation. Unlike Jordan, who was always able to make players around him better, Bryant's supporting cast hasn't exactly upped their games for him.

And last, if Bryant really believes he can now coexist with Jackson should he come back, maybe he should reread Jackson's book, especially the part where Jackson says:

"He won't listen to anyone. I've had it with this kid."

If Bryant didn't listen before, he's not likely to start now. Thanks to Buss, this is now Bryant's team, something that was perfectly evident when Bryant and Buss were discussing replacements Tuesday night for Tomjanovich even before he actually left.

The problem is, Bryant's team isn't very good, even when he's on the court and not making executive decisions.

Bryant may be the most spectacular player in the game, and he has a new seven-year $136.4 million contract to prove it. But without Shaq to clog up the middle the Lakers have little inside presence, play poor defense and have a point guard who doesn't distribute the ball well.

The same team that started four perennial all-stars last year is down to Bryant and a bunch of also-rans this season. LA's longest winning streak is two games, and the Lakers are 3-17 when the other team scores 100 points.

It's not enough to keep Jack Nicholson from courtside or wipe the perpetually perky smiles off the faces of the Laker Girls, but this isn't exactly Showtime.

If last season was a soap opera for the Lakers, this one has simply been disappointing.

But who, outside of Buss, expected any less? You don't trade the most dominant center in the game, let a coach with nine NBA championships walk away and then begin printing ticket packages for the finals.

Forget about the finals. This team won't even make the playoffs.

Midway through the season, the Lakers are 24-20 and clinging to the seventh spot in the Western Conference playoff race. But other teams are beginning to play better and 24 of the Lakers' last 38 games are on the road, including a brutal mid-March stretch when the Lakers play eight of nine games away from Staples.

"We look forward to it. That's where you bond — on the road," Bryant said. "And with us being a young team, if we want to get over that hump and get to the next level, we'll have to go through those challenges and win some of them."

That the Lakers didn't seem to be ready to get over that hump likely helped lead to Tomjanovich walking away from the $25 million or so left on his contract. Expectations are high in Los Angeles, and the losing was literally making Tomjanovich sick.

Jackson didn't handle the stress much better last season, though he had some excuses. He and Bryant were battling over who was running the team, Bryant and O'Neal were feuding every day, and Bryant was looking at the possibility of spending his prime years in prison after being charged with sexual assault.

Before Tomjanovich suddenly resigned this week, the only real fun this season came when Bryant accused Karl Malone of making a pass at his wife.

That could change if Jackson, last reported snorkeling for lobsters off the coast of Australia, comes back. Bryant has already given his public blessing to a return, and interim coach Frank Hamblen lobbied for his old boss before Thursday's loss to San Antonio.

"I'd love for Phil to come back any day, to be honest with you," Hamblen said.

Someone who won't be coming back is O'Neal, now playing happily away from Bryant's shadow in Miami and casting a very large one himself for the Heat.

O'Neal's new team has the best record in the Eastern Conference, which either proves Shaq's theory that he is the greatest player in the game or shows that the Heat didn't give away much in sending Caron Butler, Lamar Odom and Brian Grant to LA.

"I wouldn't go back there," O'Neal said. "If Micky (Arison, the Heat's owner) sold this team and bought that team, I still wouldn't go back there and play with those people."




| | |
| --- | --- |
| | |
| Spurs vs Lakers | |

| | |
| --- | --- |
| | |
| Sharapova in Pan Pacific Open | |

| | |
| --- | --- |
| | |
| Women's Soccer: China 0-2 Germany | |
Today's Top News
Top Sports News

College girls step into beauty controversy




Trains take the holiday travel strain




RMB no scapegoat for US woes




Japan to talk about end of China loans - media




US general: it is 'fun to shoot some people'




Female journalist kidnapped in Baghdad