Convenient flights applauded by travellers
By Xing Zhigang (China Daily)
Updated: 2005-02-05 01:32
Spring Festival 2005 will be known to thousands of mainland-based Taiwan business people as the "Year of Convenience."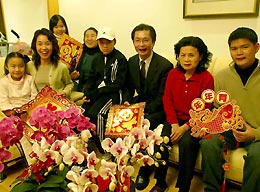 C.L. Yan (3rd right), vice-president of the Beijing Association for Taiwanese-funded Enterprises, and his wife (2nd left) greet family who arrived in Beijing by a direct cross-Straits charter flight. The family will spend their Spring Festival in Beijing. [newsphoto]

For the first time in decades, many have been able to take the flights home for their Chinese Lunar New Year holiday family reunion due to the historic cross-Straits direct flights.

The convenient trip has seen family members in Taiwan fly to the mainland for the Spring Festival.

In Beijing alone, up to 600 family members of the local Taiwanese community have already flown to the capital city for the holiday.

Such visits were in the past unusual as the regular air service between Taiwan and the mainland proved to be a test of one's nerves and patience given the compulsory round-about transit to Hong Kong or Macao.

And that is if you could get a ticket.

"I would not have decided to celebrate the Spring Festival in this way if there were no non-stop charter flights between Taipei and Beijing," said C.L. Yan, vice-president of the Beijing Association for Taiwanese-funded Enterprises.

Last Saturday, his 65-year-old mother along with his nephew and niece flew to Beijing from Taipei aboard Air China flight CA1088, the country's flag carrier.

The plane was one of the seven mainland commercial jets that landed in Taiwan last Saturday for the first time since 1949, when Taipei imposed a ban on transport links with the mainland.

Yan's elder brother and sister-in-law are scheduled to join the family on Saturday arriving on another Air China charter flight.

"The non-stop charter flights have really brought huge benefits and tremendous convenience to Taiwanese business people on the mainland by saving time and money," said Yan, general manager of Zheng Xu Real Estate Development Co Ltd, who is married to a Beijing woman and has two daughters.

"What's more important, such charter flights, if made regular in the future, will help promote closer links between our people across the Straits."

Since he invested in Beijing in 1989, Yan has tried his best to reduce the number of trips home because of the long journey.

The flight from Beijing to Taipei via Hong Kong took 10 hours on average.

Today, the direct flight takes four hours and that is longer than necessary as planes still have to fly through Hong Kong airspace.

Yan regrets that his 82-year-old father, who passed away in October last year, did not live to see the historic non-stop charter flights.

"As an old man bound to a wheelchair, each trip from Taipei to Beijing had been a trip of suffering for him," he said.

"If the charter flight scheme had been put into place at an earlier time, he would have had the opportunity to realize his biggest dream of flying directly to Beijing."

Under the one-off cross-Straits charter flight arrangements, six mainland and six Taiwanese airlines are allowed to operate 48 round-trip charter flights between January 29 and February 20.

These flights operate between the mainland cities of Beijing, Shanghai, Guangzhou and Taipei and Kaohsiung in Taiwan. Only mainland-based Taiwan business people and their relatives are allowed to use the special service.

"Regrettably, only a very limited number of Taiwan business people can benefit from the charter flight programme," said Chen Kuo-yuan, secretary-general of the Beijing Association for Taiwanese-funded Enterprises.

The 48 round-trip charter flights are expected to transport about 10,000 passengers a small fraction of the 1 million Taiwanese based on the mainland.




Today's Top News
Top China News

Trains take the holiday travel strain




Japan to talk about the end of loans - media




Wreckage of missing Afghan jetliner found




Female journalist kidnapped in Baghdad




RMB no scapegoat for US woes




Environment in western region to be protected