Trains take the holiday travel strain
By Cao Desheng in Beijing and Zheng Caixiong in Guangzhou (China Daily)
Updated: 2005-02-05 01:32
China's annual holiday migration started in earnest on Friday as millions began their Spring Festival travels home to loved ones.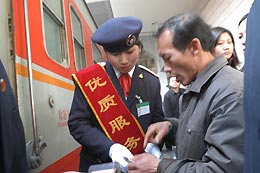 Xiong Ying[L], an undergraduate in Central China's Hubei Province, works as an alternate attendant of the train, as the peak season makes local railway operator short of hands. [newsphoto]

In the capital, over 260,000 people - mainly migrant workers - left Beijing by rail on the first of four days during which the nation's transport network will be at full stretch.

Trains are the preferred method of travel and Beijing Railway officials said 300,000 passengers will pass through their terminals over the next three days each day.

Stations in the country's other main transport hubs - including Shanghai, Guangzhou and Shenzhen - are also reporting peak passenger numbers.

In Guangzhou, more than 190,000 passengers left the provincial capital.

"Passenger numbers have been gearing up for record highs since the beginning of the year," said Xu Qin, an official from Guangdong Railway Group Corporation.

More than 2.2 million passengers are expected to pass through Guangzhou Railway Station before the arrival of the Chinese Lunar New Year next Wednesday.

Shenzhen Railway Station also record numbers use on the 21 passenger trains which departed yesterday to other cities on the rail network. "More than 69,000 passengers left Shenzhen for home by trains on Friday, up 15.1 per cent over last year," said a spokesman.

The railways ministry has ordered an additional 58 passenger trains operating in other regions to support the existing 145 to cope with the demand in Guangdong between February 4 and 7, Xu said.

Migrant workers make up the bulk of the passengers.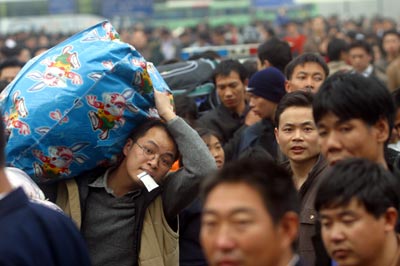 Travellers wait for trains at a railway station in Guangzhou, South China's Guangdong Province January 25, 2005. [newsphoto]
More than 31 million, migrant workers are employed in the boom region of Guangzhou, Shenzhen, Zhuhai, Dongguan, Foshan, Jiangmen, Huizhou, Zhongshan and Zhaoqing in the Pearl River Delta - representing more than 25 per cent of the country's total transient workforce.
Liu Zhijun, Minister of Railways, arrived in Guangzhou earlier this week to help direct and co-ordinate the holiday railway operation.
Around 145 million people are expected to travel by rail over the Spring Festival holidays, the ministry said.
The travel peak will be repeated for the return legs between February 15-17 and 25-28.
There's good news in the store for those passengers lamenting the tight squeeze and those unable to secure a ticket - in 15 years time.
"By 2020, the rail ministry says an extra 12,000 kilometres of track will be laid as part of the national plan for the medium to long-term railway construction," said Hu Siji, a professor from the Beijing Jiaotong University.
Road and airports will also be operating at full capacity.
Over 12.6 million people will take to the air during the peak travel season which lasts 40 days from January 25 - up 12.5 per cent from the same period of last year, sources from the General Administration of Civil Aviation of China said.
Around 270 flights have been added to the regular schedule to handle 500,000 passengers a day, the administration said.
And the country's road network saw 53.1 million people take to cars and buses yesterday alone - an increase of 2 million people over the previous day, reported the Ministry of Communications.
Today's Top News
Top China News

China sets no timetable on currency change




China could be world's No. 3 auto producer




All 104 aboard Afghan jet believed dead




Direct flights a hit with New Year passengers




China to attract more foreign experts: Premier




Nine dead in Japan, apparent group suicide