Diplomats: Iran to allow IAEA access
(Agencies)
Updated: 2005-02-04 23:29
Iran has agreed to give the U.N. nuclear watchdog agency a fresh look at a military complex linked by the United States to possible atomic arms research, diplomats said Friday.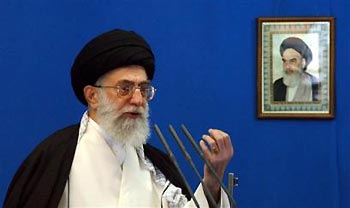 In front of a picture of the Iranian late revolutionary founder, Ayatollah Khomeini, supreme leader Ayatollah Ali Khamenei delivers a Friday prayer sermon in this Friday, Nov. 5, 2004 file photo. Iran's supreme leader on Thursday harshly condemned U.S. President George W. Bush's State of the Union address, saying his administration would fail in its attempt to uproot the ruling Islamic establishment. [AP]


The diplomats, who spoke to The Associated Press on condition of anonymity, said no date for the inspection had been set. But one of them suggested it could come before the planned Feb. 28 meeting of the board of the International Atomic Energy Agency ¡ª the U.N. watchdog group now investigating Tehran's nuclear activities.

One of the diplomats said the Iranians gave their "agreement in principle" about 10 days ago.

IAEA inspectors last visited the Parchin complex just outside Tehran in mid-January in their search for radiation that could point to such research. Diplomats accredited to the agency or familiar with its work said the inspectors were given partial access to the site and were allowed to take environmental samples for analysis.

Washington has accused Iran of being part of an "axis of evil" with North Korea and prewar Iraq. The United States alleges Iran may be testing high-explosive components for nuclear weapons, using an inert core of depleted uranium at Parchin as a dry run for a bomb that would use fissile material.

Diplomats last month said that as far as they knew the IAEA experts were not impeded in their first visit, beyond the limitations placed on where they could take their samples.

But one of the diplomats said the fact that the agency had requested fresh access to another part of the site suggested there were continued questions about the nature of the work conducted at Parchin.

In leaks to media last year, U.S. intelligence officials said a specially secured site at Parchin may be used in research for high-explosive components of nuclear weapons.

Iran asserts its military is not involved in nuclear activities, and the IAEA has found no firm evidence to the contrary. The agency also has not been able to support U.S. assertions that nearly two decades of covert nuclear programs discovered more than 2 years ago were aimed at making nuclear weapons ¡ª not generating electricity, as Tehran claims.

But an IAEA report in October expressed concern about published intelligence and media reports relating to equipment and materials that could serve military purposes.

At the time, diplomats said the phrasing alluded to Parchin.

As part of his investigation into Iran's nuclear activities, IAEA head Mohamed ElBaradei has produced a series of reports on what to do about Iran's nuclear activities.

His refusal to declare Iran in breach of the Nonproliferation Treaty has angered U.S. officials by derailing their drive to have the U.N. Security Council examine Iran's nuclear dossier.

Suggesting that military action remained a possibility, President Bush said last month that he did not rule out any option for confronting Iran. But on Friday, Secretary of State Condoleezza Rice said a U.S. attack "is simply not on the agenda at this point."

Speaking in London, her first stop on a weeklong tour of European capitals, Rice said there is broad international agreement that Iran cannot be allowed to use a civilian nuclear power project to conceal a weapons program. But she said the United States believed that "there are plenty of diplomatic means at our disposal to get the Iranians to finally live up to their international obligations."