Wreckage of missing Afghan jetliner found
(Agnecies)
Updated: 2005-02-04 21:48
The wreckage of an Afghan passenger jet that went missing in a snow storm with 104 people including at least 15 foreigners on board has been found, a western security official and a source close to the search told AFP.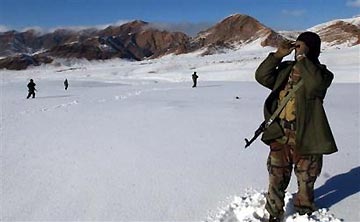 Afghan National Army and Afghan police search the area for a missing Afghan plane in Khaki Jabar, a district southeast of Kabul, on Friday, Feb. 4, 2005. [AP]

It was not known if there were any survivors on the private Kam Air Boeing 737, which disappeared from radar screens on Thursday afternoon while travelling from the western city of Herat to the capital Kabul.

"The plane was found 35 kilometres (22 miles) east of Kabul. We don't know if there are any survivors," a western security official Friday told AFP on condition of anonymity.

Another source close to the search mission said the plane had been located but put the distance from the capital at 57 kilometres.

NATO peacekeeping troops and Afghan forces carried out a huge hunt for the plane, which vanished shortly after asking permission to divert to northwestern Pakistan because of the poor weather.

Afghan Transport Minister Enayatullah Qasimi refused to comment when contacted by AFP, while officials from the privately-run airline could not be reached.

Earlier he said the plane dropped off radar screens "about 3.1 miles east of Kabul" shortly after speaking to air traffic controllers.

Nine Turks, three Americans and other foreign nationals were thought to be among the 96 passengers while six Russian and two Afghan crew members were also on board the plane, officials said.

The three American women working for the US-based Management Science for Health company were probably on the plane, operations manager Bill Shiffbauer told AFP. Other officials said they were aged between 20 and 30.

"We are fairly certain that three of our staff are in the plane, three American women. We're hoping for a miracle, but it appears that they were in (the plane)," he said.

The Turks were civilians working in Afghanistan for firms based in their own country, the Turkish prime minister's press office said in a statement.

It was not clear who had discovered the wreckage of the plane but the NATO-led International Security Assistance Force (ISAF) had coordinated the rescue mission, conducting ground and helicopter searches of the area.

Afghan forces including 10 helicopters were also involved in the operation, defence ministry spokesman General Mohammad Zaher Azimi said.

Airline officials said the last contact with the plane was around 3:15 pm (1045 GMT) on Thursday when it asked Kabul for permission to land at the northwestern Pakistani border town of Peshawar because of the snow.

The airline had frantically checked with all other nearby airports to see if the 737 had managed to land somewhere else.

Transport minister Qasimi had said that a low visibility landing system had been operational at the airport for a month and a half.

"As far as I know the landing was possible -- whether to land or not land is decided by the pilots," he said.

ISAF said the plane had contacted the US-led coalition airbase at Bagram, near Kabul, shortly before it crashed.

"Bagram instructed them to talk to Kabul airport because they were expected to land there and that was at 3:18 pm Thursday. Then they went missing," spokesman Ken MacKillop said.

A Pakistani interior ministry official said the jet never contacted Peshawar airport, while Pakistan's Civil Aviation Authority told AFP they had no record of a Kam Air flight landing in any Pakistani city Thursday night.

Planes bound for Kabul are regularly diverted to Peshawar during the winter months, where blizzards reduce visibility and make landing hazardous in the mountainous region. Kabul airport is also closed to civilian aircraft at night.

Kam Air is the first privately-run Afghan airline and was launched in November 2003 with a fleet comprising a Boeing 767, a Boeing 727, an Antonov 24 and the Boeing 737 missing since Thursday, Kamgar said.

The airline connects several towns in Afghanistan and also has international flights to Dubai in the United Arab Emirates.




Today's Top News
Top World News

Trains take the holiday travel strain




Japan to talk about end of China loans - media




US knocked for blocking EU arms ban end




Female journalist kidnapped in Baghdad




Wreckage of missing Afghan jetliner found




RMB no scapegoat for US woes