Rice: US attack on Iran not on agenda
(Agencies)
Updated: 2005-02-04 21:13
LONDON - Secretary of State Condoleezza Rice said a U.S. attack on Iran "is simply not on the agenda," despite the United States' continued criticism of Iran's human rights record and suspected nuclear weapons ambitions.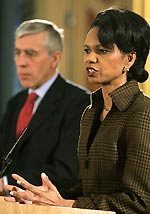 Condoleezza Rice and Jack Straw at the press. [Xinhua]

Rice would not say whether the United States supports a change of government in Iran, although Deputy Secretary of State Richard Armitage has expressly said that regime change is not the U.S. goal.

Speaking in London, first stop on a weeklong tour of European capitals, Rice said there is broad international agreement that Iran cannot be allowed to use a civilian nuclear power project to conceal a weapons program.

After a meeting with British Foreign Secretary Jack Straw, Rice was asked directly whether the United States might attack Iran. Doing so could presumably head off the threat that Iran could use a nuclear device against Israel or other nations.

"The question is simply not on the agenda at this point," Rice said at a news conference.

Rice said "We believe particularly in regard to the nuclear issue that while no one ever asks the American president to take all his options, any of his options off the table, that there are plenty of diplomatic means at our disposal to get the Iranians to finally live up to their international obligations."

She called the Iranian human-rights record "abysmal." A day earlier, Rice said the Iranian regime's behavior in that area and others "is something to be loathed."

Earlier, Rice met with British Prime Minister Tony Blair, the United States' closest ally in Iraq, holding her first meeting with a foreign leader since taking over from Colin Powell as the top American diplomat.

Their 90-minute breakfast meeting at Blair's Downing Street office covered Iraq, the Middle East and other subjects.

Rice thanked Blair for Britain's support in Iraq "as we work to support the Iraqi people in their quest and most especially ... as we try to bring to the Israelis and the Palestinians a chance for a lasting peace."

London is the site of a one-day conference in March to help the Palestinian government build democratic institutions.

En route to London on Thursday, Rice indicated the United States may take a back seat for now in the international effort to bring Israel and the Palestinians closer to a lasting peace.

Rice said she does not plan to attend next week's Middle East summit meeting in Egypt, although she will be close by for talks in Jerusalem and the West Bank.

"Not every effort has to be an American effort," Rice said. "It is extremely important that the parties themselves are taking responsibility. It is extremely important that the regional actors are taking responsibility."

She said the United States welcomes Egypt's help in hosting the summit and called it one of several hopeful signs for peace.

Middle East peace is one of the main topics for Rice's discussions with European leaders over the coming week, as is Iran. She will visit eight European capitals and the Vatican, with a weekend side trip to see the Israeli and Palestinian leaders.

In stops in Berlin later Friday and Paris next week, she may run into opposition to the U.S.-led war in Iraq. Iran's nuclear ambitions also is expected to be a topic of discussion with Europeans who are trying to head off nuclear weapons development.

It is not clear how much international support there is for any potential action against Iran. The Europeans have offered Iran technological and financial support, and have hinted at a trade deal if weapons development stops. The Bush administration has been cool to the European diplomacy, preferring economic sanctions against Iran.

In his State of the Union speech Wednesday night, President Bush called Iran "the world's primary state sponsor of terror."

At her Senate confirmation hearings last month, Rice said the United States wants "a regime in Iran that is responsive to concerns that we have about Iran's policies, which are 180 degrees" antithetical to America's interests.

On Thursday, Rice said Iran's approach to human rights and its treatment of its own citizens were loathsome.

"I don't think anybody thinks that the unelected mullahs who run that regime are a good thing for the Iranian people and for the region," she said.

Iran's supreme leader on Thursday said Bush's policies toward Iran would fail.

"America is like one of the big heads of a seven-headed dragon," Ayatollah Ali Khamenei said in Iran's capital. "The brains directing it are Zionist and non-Zionist capitalists who brought Bush to power to meet their own interests."