Missing Afghan jetliner may have crashed
(Agencies)
Updated: 2005-02-04 16:54
An Afghan passenger jet with 104 people including a number of foreigners on board was feared to have crashed after failing to arrive in Kabul amid heavy winter snow storms, officials said.
Officials from private Afghan company Kam Air said there had been no contact with the Boeing 737 travelling from the western city of Herat to the capital since late Thursday afternoon, when it had asked to land in Pakistan.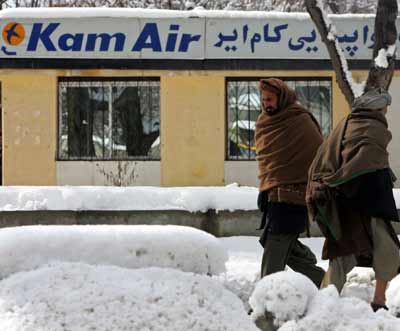 Afghans walk past the office of the private airline Kam Air in Kabul February 4, 2005. An Afghan passenger plane missing since Thursday with 104 people on board, including at least 13 foreginers, may have crashed after being turned away from Kabul airport during a snow storm, officials said on Friday. [Reuters]

International peacekeepers and the Afghan military were both searching for the plane in the country's mountainous terrain while the US military said it was ready to help if needed.

The plane was carrying 96 passengers, including seven foreigners of unknown nationalities, airline president Ezmarai Kamgar told a news conference in Kabul.

Six Russian crew members and two Afghan staff were also on board, he said.

Three American women aged between 20 and 30 and working for a health services agency were among the passengers, an official with a nongovernmental organisation in Herat told AFP on condition of anonymity.

The US Embassy in Kabul was "aware of the possibility" there were Americans on the airliner but could not give any confirmation because it did not have a passenger list, spokesman Elizabeth Lee told AFP separately.

Airline officials said the plane's final message before its disappearance was to ask air traffic controllers at Kabul for permission to land at the northwestern Pakistani border town of Peshawar.

The airline had checked with all nearby airports and all but one had responded saying the plane had not landed, said Shah Mohammad, a Kam Air representative, adding that they were trying to contact the other.

"It is a serious issue," he added.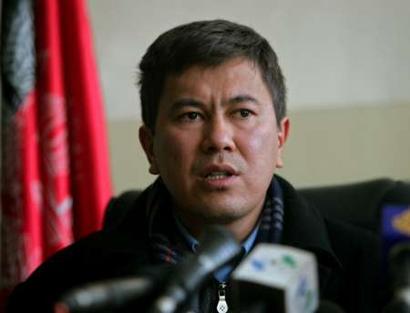 Afghanistan's Minister of Transport Enayatullah Qasimi speaks during a news conference in Kabul February 4, 2005. An Afghan passenger plane missing since Thursday with 104 people on board, including at least 13 foreigners, may have crashed after being turned away from Kabul airport during a snow storm, officials said on Friday.[Reuters]

Kam Air operations deputy manager Feda Mohammad Fedawi told AFP the plane spoke to air traffic controllers in Kabul at 3:15 pm (1045 GMT) before contact was broken.

"Due to the bad weather, the plane could not land in Kabul," he added.

A Pakistani interior ministry official said the jet never contacted Peshawar airport, while Pakistan's Civil Aviation Authority told AFP they had no record of a Kam Air flight landing in any Pakistani city Thursday night.

The jetliner did however contact the US-led coalition airbase at Bagram, near Kabul, according to the International Security Assistance Force (ISAF), the NATO-led peacekeeping detachment in Afghanistan.

"Bagram instructed them to talk to Kabul airport because they were expected to land there and that was at 3:18 pm Thursday. Then they went missing," said ISAF spokesman Lieutenant Commander Ken MacKillop.

ISAF was conducting ground searches southeast of the capital in the area where the plane went missing and may launch Apache gunship helicopters to help the hunt for the aircraft, MacKillop added.

Afghan forces including 10 helicopters were also involved in the operation, defence ministry spokesman General Mohammad Zaher Azimi said.

The US military said they would assist if requested. "It is a private Afghan airline, but if needed we will be prepared to provide whatever support we can," said US military spokesman Major Mark McCann.

Another Kam Air official, Aziz Ahmad, refused to speculate on the fate of the plane, saying it could have landed elsewhere.

"We can't confirm whether it has crashed. We don't know where it has landed," he told AFP.

Planes bound for Kabul are regularly diverted to Peshawar during the winter months, where blizzards reduce visibility and make landing hazardous in the mountainous region. Kabul airport is also closed to civilian aircraft at night.

Communications are often extremely poor in Afghanistan, where 40 percent of the country is 1,800 metres (5,900 feet) above sea level and much of the landscape is rugged mountain terrain.

A source at Kabul airport who did not want to be named said the plane was flying at 3,600 metres when contact was lost.

Kam Air is the first privately-run Afghan airline and was launched in November 2003 with a fleet comprising a Boeing 767, a Boeing 727, an Antonov 24 and the Boeing 737 missing since Thursday, Kamgar said.

The airline connects several towns in Afghanistan and also has international flights to Dubai in the United Arab Emirates.




Today's Top News
Top World News

US knocked for trying to block EU arms ban end




Missing Afghan jetliner may have crashed




Private enterprises expanding quickly




Homeward-bound told to travel light




44 babies rescued from traffickers




Bombings, arson and rape cases on the dive