Nicole wins top skin award
(Agencies)
Updated: 2005-02-04 14:01
Nicole Kidman has been honoured for fighting skin issues at the eighth annual Skinnies Awards, which are held to reward the film stars who serve as role models to the fair-skinned and spotty.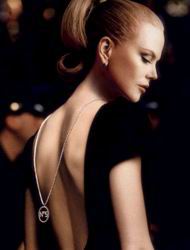 Nicole Kidman in black evening dress performs in Chanel No. 5 commercial. [univision.com]

Kidman has received the online event's first Lifetime Achievement Award for constantly looking after her fair skin, while taking on a succession of face-changing film roles.

California dermatologist Dr Vail Reese, who hands out the awards yearly on his www.skinema.com website, reveals Kidman beat Julia Roberts to the first Lifetime Achievement prize.

He says: "For the longest time, Nicole Kidman has been a role model for the fair-skinned. She's pale and suffers apparent hand eczema, and yet she's one of the most attractive women."

This year's Skinnies also honour Lindsay Lohan, who picks up the Missing In Action Award for hiding her freckles behind skin-safe sunless tanning make-up.

Reese adds: "If you look at Lindsay in The Parent Trap in 1998 and now, she has gone from playing a freckly pre-adolescent to a beautiful woman."

Meanwhile, Jamie Foxx picked up the quirky Pimpliest Portrayal honour for allowing his adult acne to feature heavily in his portrayal as Ray Charles in Ray.

Dr Reese says: "It's a very brave statement for him not to cover up his acne. It shows those with the skin complaint that you can have acne and still be a big star in Hollywood movies."

Finally, Gwen Stefani claims the Favourite Lesion prize for the beauty mark she sported as Jean Harlow in her movie debut The Aviator.




| | |
| --- | --- |
| | |
| Nicole wins top skin award | |

| | |
| --- | --- |
| | |
| 'Baby lips' Blair earns admirer's kiss | |

| | |
| --- | --- |
| | |
| Casts promote 'Seoul Raiders' in Beijing | |
Today's Top News
Top Life News

US knocked for trying to block EU arms ban end




Private enterprises expanding quickly




Homeward-bound told to travel light




44 babies rescued from traffickers




Bombings, arson and rape cases on the dive




Plane with 96 on board missing in Afghanistan