Rumsfeld says he offered to resign twice
(Agencies)
Updated: 2005-02-04 09:54
US Defense Secretary Donald H. Rumsfeld disclosed Thursday that he had offered President Bush his resignation twice during the height of the Abu Ghraib prisoner abuse scandal last year. He said he wanted the decision on his future to be placed in Bush's hands.
"He made that decision and said he did want me to stay on," Rumsfeld told CNN's "Larry King Live," according to a transcript provided by CNN before the program aired Thursday.
In the CNN interview Rumsfeld asserted, as he has many times in the past, that as defense secretary he could not be expected to know all that takes place in war zones halfway around the world. But he also indicated that he could have done more to head off the trouble.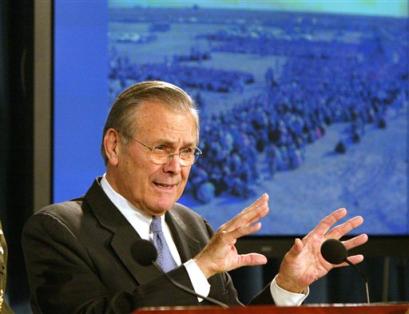 With a photo of lines of Iraqi voters in the background, Defense Secretary Donald H. Rumsfeld gestures during a Pentagon news conference, Thursday, Feb. 2005 to discuss the situation in Iraq. [AP]

The release of photographs last spring depicting American soldiers abusing Iraqi prisoners at Abu Ghraib triggered worldwide outrage, particularly in the Arab world. Rumsfeld told Congress at the time that he would quit if he felt he could no longer serve effectively, but he also said then that he would not resign simply to please his critics and political opponents.

In the CNN interview, he indicated that he felt a measure of responsibility for the scandal.

"The problem is, this kind of thing occurs in prisons across the country and across the world," he said. "And you have to know it's going to be a possibility. And therefore the training and the discipline and the doctrine has to be such that you anticipate that risk. And clearly, that wasn't done to the extent it should."

Some had speculated last fall that if Bush was re-elected he would replace Rumsfeld, but in December the president said he wanted him to stay. Rumsfeld told CNN that when Bush asked him to stay for a second term, they did not discuss whether it would be for the full four years.

At a news conference at the Pentagon on Thursday, the subject of the Abu Ghraib abuse scandal arose in a different context. Rumsfeld said he may skip an appearance at a security conference in Germany next week because of a lawsuit there accusing him of war crimes for the prisoner abuse.

"It's something that we have to take into consideration," he said when asked whether the war crimes suit was a factor in weighing whether to attend the Munich Conference on Security Policy, an annual gathering of government defense officials, lawmakers and others from Europe and elsewhere.

Rumsfeld said he had not yet made a final decision on attending the two-day conference, where an address by the U.S. defense secretary typically is a highlight. Last year, Rumsfeld stoutly defended the U.S. invasion of Iraq, which was highly unpopular in much of Europe.

"Whether I end up there we'll soon know," he said Thursday. "It'll be a week, and we'll find out."

It would not be the first time Rumsfeld has skipped the conference. In 2002, he sent his top deputy, Paul Wolfowitz. If Rumsfeld decides not to attend this year, he will probably send Douglas Feith, the undersecretary of defense for policy.

Attorneys from the New York-based Center for Constitutional Rights filed a suit with German federal prosecutors last November charging that U.S. officials, including Rumsfeld, are responsible for acts of torture against detainees at the Abu Ghraib prison in Iraq. That is the prison where U.S. soldiers were photographed abusing and sexually humiliating Iraqi detainees.

Rumsfeld has maintained that the U.S. government has no policy to permit or encourage torture and that U.S. investigations of the Abu Ghraib abuses showed he was not directly responsible.

The lawsuit against Rumsfeld was filed in Germany because its laws allow for the prosecution of war crimes and human rights violations across national boundaries. Because the United States is not a member of the International Criminal Court, the case could not be filed there.

Rumsfeld noted that he is traveling to Nice, France, early next week for a NATO meeting, and he is "very likely going to visit some other locations in that part of the world during that period."




Today's Top News
Top World News

US knocked for trying to block EU arms ban end




Private enterprises expanding quickly




Auto imports on sound footing




Homeward-bound told to travel light




Bombings, arson and rape cases on the dive




Plane with 96 on board missing in Afghanistan