Iran condemns Bush speech on terrorism
(Agencies)
Updated: 2005-02-04 08:57
Iran's supreme leader on Thursday condemned US President Bush's State of the Union address, saying Washington was seeking to uproot Iran's ruling Islamic establishment but would fail. Syria warned the democracy America seeks for the Middle East cannot come through force.
Iran's Ayatollah Ali Khamenei rejected Bush's assertion that his nation was "the world's primary state sponsor of terror." He said Bush would fail in efforts against Iran, as had all American presidents since the 1979 Islamic Revolution.
"The Islamic Republic of Iran, because of supporting the oppressed and confronting oppressors, is being attacked by the global tyrants," state-run television quoted Khamenei as saying, using the term he regularly uses to refer to the United States.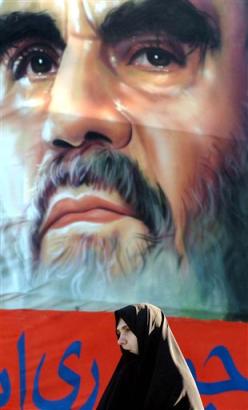 An Iranian woman, stands in front of a picture of the late revolutionary founder, Ayatollah Khomeini, during a ceremony marking the 26th anniversary of the Islamic Revolution's victory, at the Behesht-e-Zahra cemetery, just outside Tehran, Iran, Thursday, Feb. 3, 2005.[AP]

"They (America) are trying, in a real but nonmilitary confrontation, through every possible means, to deny the talented Iranian nation of progress and deprive it of existence."

In his address Wednesday, Bush said Washington was working with European allies to persuade Iran to end its nuclear programs and stop supporting terror. Addressing the Iranian people, he said: "As you stand for your own liberty, America stands with you."

Khamenei, who has the final say on all state matters in Iran and is also the commander in chief of the armed forces, blasted the comments in a speech to students in Tehran, quoted by state-run television.

The United States and other countries fear Iran is seeking to produce nuclear weapons. Iran publicly insists it only wants to make low-grade enriched uranium for nuclear fuel.

On a street in the Iranian capital, Ali Dehqani said Bush should stay out of Iran's business.

"Bush's comment is right somehow. The people of Iran are restricted. Iran follows nuclear technology. But it's not his business to intervene in Iran's affairs," the 55-year-old man said. "Also, there is no evidence of support of terrorism by Iran."

The European Union welcomed Bush's comments on cooperative diplomatic efforts concerning Iran's nuclear program.

Russian lawmaker Konstantin Kosachyov, head of the foreign policy committee in the State Duma, the lower house, said Bush's characterization of Iran as the main center of world terrorism showed that his speech was "written by propagandists, not analysts."

Syria also rejected Bush's charge that it sponsored terrorism, with the information minister saying the democracy that Washington seeks for the Middle East cannot come through force.

"Freedoms cannot be exported by tanks and planes, death and destruction," Syrian Information Minister Mehdi Dakhlallah said, adding that "the characteristics of the region and the distinctiveness of its peoples and cultures must be understood."

Although criticized for his stern words on Syria and Iran, Bush won some praise in the region for calling for an independent Palestinian state living side-by-side in peace with Israel.

The Syrian information minister said that part of the speech was a "positive development."

Syria has cooperated with the West on tracking down al-Qaida supporters but has rejected U.S. calls to crack down on Palestinian militant groups Hamas and Islamic Jihad, and Lebanese Hezbollah guerrillas who operate in southern Lebanon. Washington labels the Palestinian and Lebanese groups as terrorists.

Bush also called on Saudi Arabia and Egypt to take steps toward democracy, words that some considered interference.

"We thank Mr. Bush, but we are already having elections," said al-Maeena of Arab News. He referred to the staging later this month of Saudi Arabia's first municipal elections in 45 years.

"I don't believe we need Mr. Bush to advise us," he said. "This is an internal issue and we are working on it."

Bush only briefly mentioned North Korea during his address, saying Washington was "working closely with governments in Asia to convince North Korea to abandon its nuclear ambitions."

That was a stark contrast to his speech three years ago, when he branded North Korea part of an "axis of evil" with Iran and Saddam Hussein's Iraq.

The absence of hostile rhetoric raised hopes for a positive response from North Korea. Analysts have said the North was waiting to see what Bush would say in the speech.

"We assess that President Bush's speech reflected Washington's will to resolve the North's nuclear issue through a peaceful and diplomatic way," South Korea's Foreign Ministry said. "Now, it's time for North Korea to make a positive response and for us to resume the six-party talks soon and make concrete progress for the resolution of the North Korean nuclear issue."

Israeli and Palestinian officials welcomed President Bush's pledge to try to push forward the peace process. He also asked Congress for $350 million to support Palestinian political, economic and security reforms.

"This assistance from the U.S. is more important because it has a political value, particularly that Congress has a positive attitude toward us," Mahar Al Masri, the Palestinian economy minister, said.

Israeli Foreign Ministry spokesman Mark Regev said Israel supported the U.S. administration's vision on how to end the conflict. "We hope that the new leadership on the Palestinian side will make the implementation of that vision possible," he said.