Shiite leads Iraq vote; 3 marines killed
(Agencies)
Updated: 2005-02-04 08:45
Iraqi officials Thursday released the first partial returns from national elections, showing a commanding lead by candidates backed by the Shiite Muslim clergy.
Sunni insurgents unleashed a wave of attacks, killing at least 30 people, including three U.S. Marines and a dozen Iraqi army recruits.
Meanwhile, election officials said strict security measures may have deprived many Iraqis in the Mosul area and surrounding Ninevah province of their right to vote. The admission is likely to fuel complaints by Iraq's minority Sunni Arabs, who make up the heart of the insurgency, that they were not represented in the vote.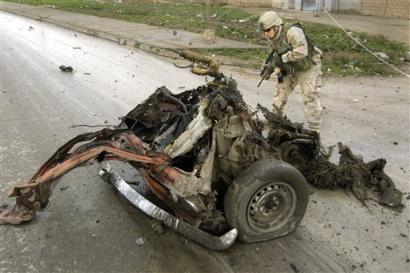 A U.S. Army 1st Battalion, 24th Infantry Regiment soldier examines the wreckage after a car bomb targeting his Army convoy exploded, causing minor injuries to two soldiers and six children in a nearby house in Mosul, Iraq Thursday, Feb. 3, 2005. Insurgents attacked U.S. and Iraqi troops throughout the day, also using small arms, mortars, rocket-propelled grenades and roadside bombs. [AP]

The results released by the election commission four days after Sunday's balloting came from Baghdad and five provinces in the southern Shiite heartland.

As expected, they showed that the United Iraqi Alliance, backed by Iranian-born Grand Ayatollah Ali al-Sistani, was leading — with 1.1 million votes out of the 1.6 million counted and certified so far. Some 14 million Iraqis were eligible to vote.

The ticket headed by interim Prime Minister Ayad Allawi, a U.S.-backed secular Shiite, trailed second with more than 360,500 votes.

But the returns — from 10 percent of the country's 5,200 polling centers — were too small to indicate a national trend.

Shiites make up an estimated 60 percent of Iraq's 26 million people, and the al-Sistani-backed ticket had been expected to roll up such huge margins in the south that the other 110 candidate lists would have to struggle for votes in the rest of the country.

Shiites turned out in huge numbers in cities such as Basra, Nasiriyah, Karbala and Najaf, urged on by clerics who said voting was a religious duty.

However, many Sunni Arabs apparently stayed home, either out of fear of insurgent attacks or in response to boycott calls from their own clerics.

Election officials have said full official results and determine turnout might not be ready until Tuesday.

Seats in the 275-member National Assembly will be determined based on the percentage of the nationwide vote won by each ticket.

The count appeared to have been delayed somewhat by controversies in Ninevah, a region with a large Sunni Arab population.

On Thursday, the electoral commission said it had sent a team to the northern city of Mosul to investigate complaints that some stations never opened or ran out of ballots.

Election official Safwat Rashid said U.S. and Iraqi forces in the area initially allowed authorities in Ninevah, the province surrounding Mosul, to open only 90 out of its 330 polling stations.

As the day went on and security proved better than expected, authorities opened more stations but were unable to get supplies to all of them. "We tried to send the boxes and ballot papers to those places," Rashid said. "In some places we succeeded, and unfortunately in some other places due to transportation and other things, we failed."

He could not say how many stations opened in the end.

One prominent Sunni politician, Meshaan al-Jubouri, accused the commission of mismanaging the vote in some Sunni areas because they "didn't want the Sunnis to vote so that the Shiites could score a fake victory."

Insurgents eased up on attacks following the elections, when American and Iraqi forces imposed draconian security measures. In Baghdad, residents had a cautious sense of security, with the streets clogged with traffic, children playing in parks and outdoor markets bustling with people.

But starting Wednesday night, guerrillas launched a string of dramatic attacks.

In the deadliest incident, insurgents stopped a minibus south of Kirkuk, ordered army recruits off the vehicle and gunned down 12 of them, said Maj. Gen. Anwar Mohammed Amin. Two soldiers were allowed to go free, ordered by the rebels to warn others against joining Iraq's U.S.-backed security forces, he said.

One U.S. Marine was killed Thursday in Babil province south of Baghdad, the U.S. command said. Two other Marines were killed in action Wednesday night in Anbar, a Sunni insurgent stronghold west of Baghdad.

Elsewhere, rebels attacked Iraqi police Thursday in the Baghdad suburb of Abu Ghraib, killing one policeman and wounding five, the Interior Ministry said.

Gunmen fired on a vehicle carrying Iraqi contractors Thursday to jobs at a U.S. military base in Baqouba north of the capital, killing two people, officials said.

A suicide car bomber struck a foreign convoy escorted by military Humvees on Baghdad's dangerous airport road Thursday, destroying several vehicles and damaging a house, Iraqi police said. Helicopters were seen evacuating some casualties, witnesses said. The U.S. military had no immediate comment.

Insurgents ambushed another convoy in the area, killing five Iraqi policemen and an Iraqi national guard major, police said. An Iraqi soldier was killed by gunmen as he was leaving his Baghdad home, officials said.

Also, the bodies of two slain men wearing blood-soaked clothes were found in the western insurgent stronghold of Ramadi. A handwritten note tucked into the shirt of one of the men claimed the two were Iraqi national guardsmen.

On Wednesday night, insurgent attacks in Tal Afar, near Mosul, and at a police station in the southern city of Samawah killed three Iraqis.

A car bomb exploded at a house used by U.S. military snipers in Qaim, near the Syrian border, witnesses said. U.S. troops opened fire, hitting some civilians, the witnesses said. A U.S. military spokesman had no immediate information.

During the election, Iraqis also chose provincial councils and a regional parliament for the autonomous Kurdish north. According to the count, the Shiite Alliance was running first and Allawi's list second in all six provinces reporting.

Jockeying has begun for the leadership positions even before the balance of power in the assembly is known.

Kurdish political leader Jalal Talabani said he would seek the office of either president or prime minister when the National Assembly convenes.

"We as Kurds want one of those two posts and we will not give it up," Talabani, head of the Patriotic Union of Kurdistan, said at a news conference alongside the other main Kurdish leader, Massoud Barzani.




Today's Top News
Top World News

US knocked for trying to block EU arms ban end




Auto imports on sound footing




Private enterprises expanding quickly




President Hu meets Panchen Lama




Bombings, arson and rape cases on the dive




Putin hails bilateral strategic partnership