Bombings, arson and rape cases on the dive
By Qin Chuan (China Daily)
Updated: 2005-02-04 02:13
The Ministry of Public Security said yesterday that there had been a decline in serious criminal cases such as bombings, arson and rape in the country last year.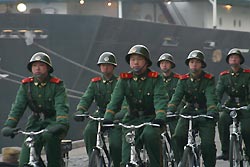 Armed police staff patrol at the port area of Qinghuangdao on January 31, 2005. [newsphoto]

According to ministry spokesman Sun Yongbo, police forces put on record 1,130 bombings, 10,087 arson cases and 36,175 rape cases last year, down 28.3 per cent, 12.9 per cent and 9.8 per cent respectively from 2003.

Crimes related to guns also decreased by 13.8 per cent, while breaking-and-entering theft cases were slightly down by 2.5 per cent.

But the total number of criminal cases rose. Sun said more than 4.7 million cases were recorded, up 7.4 per cent from the previous year.

Sun attributed the increase to a rise in stealing and robbery cases, which totalled about 4 million and were a jump by 7.8 per cent.

According to Sun, the ability of public security forces to solve cases was further raised last year, which helped them unearth a series of serious criminal incidents.

One of the cases, which attracted nationwide attention, involved the murders committed by 22-year-old Ma Jiajue, a student of Yunnan University, Southwest China's Yunnan Province.

Ma, from the Guangxi Zhuang Autonomous Region, killed four of his schoolmates between February 13 and 15 in his dorm and hid their bodies there. The bodies were found on February 23.

Police listed Ma as chief suspect and offered a 200,000 yuan (US$24,000) reward to anyone providing information leading to his apprehension.

Ma was captured on March 15 in South China's Hainan Province after a local resident reported his whereabouts to police.

He was executed in June.

Last year, police forces carried out a series of specialized campaigns against various public security problems, Sun said.

A noticeable one was the crackdown on pornographic web sites, which started in July.

Through the three-month action, nearly all domestic pornographic websites have been rooted out, said Wu Mingshan, vice-director of the ministry's public security management department at yester-day's news conference.

Yesterday, Sun also asked the general public to raise their alertness during the coming Spring Festival.

He Ting, director of the ministry's criminal investigation department, said many criminals commit crimes before the festival.

Sun suggested that people report to local police as soon as possible once they became the victims of crimes.

That would be helpful for police to collect clues and evidence in time, solve the cases and finally punish criminals, he said.

Wu said that people who play mah-jong or cards with a little side bet as entertainment will not be considered gamblers to be cracked down on in the nationwide campaign against gambling launched in mid-January to be continued until May.

Despite overall stability, Sun said there are still many problems in public security and serious violence such as bombings,murders and kidnapping happen from time to time.

Police will further their crackdown on various crimes this year to maintain stability in society, he added.




Today's Top News
Top China News

US knocked for trying to block EU arms ban end




Auto imports on sound footing




Private enterprises expanding quickly




President Hu meets Panchen Lama




Bombings, arson and rape cases on the dive




Putin hails bilateral strategic partnership