US knocked for blocking EU arms ban end
By Qin Jize (China Daily)
Updated: 2005-02-04 02:13
China yesterday criticized US opposition towards lifting the 15-year-old European arms embargo against China.
Chinese Foreign Ministry spokesman Kong Quan told a regular news briefing the European Union embargo is an "already out-of-date" Cold War remnant.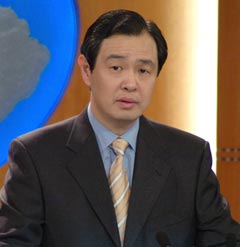 Kong Quan. [file]

"It is also not conducive to the furthering of Chinese-EU strategic relations," he said.

He said lifting the ban does not mean that China would necessarily buy weapons from the EU.

"It is totally unnecessary for the United States to obstruct the lifting of the arms embargo," he said.

On Wednesday, the US House of Representatives voted 411-3 for a resolution that calls on the Bush administration to press European leaders at an upcoming meeting to reconsider proposals to lifting the embargo and instead to "work expeditiously to close any gaps" in it.

Revaluing currency

In response to reports the US Senate may propose a bill to impose a six-month deadline on China to revalue its currency, Kong said doing so cannot help resolve differences between the two countries.

"Every country's economic and financial policies are established and implemented in accordance to their own specific situations," he said.

He said the Chinese Government always holds to the opinion that to ensure and maintain the rapid, healthy and stable development of China's economy helps not only China but also mutually beneficial economic and trade co-operation with Asia and other countries.

Kong also said China will send two senior officials to the G7 conference in London this week with the topic of the Chinese currency rate likely to be touched upon.

Six-party talks

Michael Green, Asian affairs director of Bush's National Security Council, called for the Democratic People's Republic of Korea return to the six-party dialogue soon when he visited Seoul on Wednesday.

In response to Green's call, Kong said China, the host of the talks, has always been engaged in "very close contacts and communications with other five sides" and has made unswerving efforts to promote the early resumption of the talks.

Kong said negotiations are facing some difficulties and all the parties concerned have made preparations to push forward the process by overcoming issues before them.

He said all sides should show more sincerity and flexibility to create suitable conditions and an atmosphere for restarting negotiations.

He said China hopes to receive active responses from the other parties.

Green traveled to Seoul after two days in Beijing.

He spoke with Chinese Foreign Minister Li Zhaoxing, Deputy Foreign Minister Dai Bingguo, Director of the Taiwan Affairs Office of the State Council Chen Yunlin and other senior officials, addressing the Sino-US relationship and matters of mutual concern.

Kong said the two sides agreed to continue fulfilling the consensus reached by the heads of state when the two presidents met in Chile last November.

They also discussed promoting the bilateral relationship.

Kong said Green passed on a letter from US President Bush to President Hu Jintao but declined to provide details.

Diaoyu Islands

When asked to comment on the reported Japanese deployment of troops near Diaoyu Islands, Kong reiterated that China and Japan should resolve the dispute through negotiation and consultation.

"No unilateral action should be taken," Kong said.

The spokesman also asked the reporter from Kyodo News to clarify his question when he was using the expression "Senkaku Islands," and the reporter then changed it to "Diaoyu Islands."

China and Japan have disputed the boundary demarcation of the East China Sea. Kong said China holds its own position and views on this issue, and exercises its own power according to that view.




Today's Top News
Top China News

Trains take the holiday travel strain




Japan to talk about end of China loans - media




US knocked for blocking EU arms ban end




Female journalist kidnapped in Baghdad




Wreckage of missing Afghan jetliner found




RMB no scapegoat for US woes