Iraqi Sunni clerics: Election lacked legitimacy
(Agencies)
Updated: 2005-02-03 14:20
Leading Sunni clerics declared on Wednesday that any government emerging from Iraq's historic election would lack legitimacy because many people had boycotted a poll they said was tainted by a U.S.-led occupation.
But US President Bush said in remarks prepared for his State of the Union speech that the United States will open a "new phase" in post-election Iraq increasingly focused on training Iraqi security forces.
Emboldened by Sunday's election, the police chief in Mosul demanded that insurgents hand over their weapons in two weeks or face a police onslaught. Al Qaeda's wing in Iraq threatened to assassinate the governor of the restive northern Sunni city.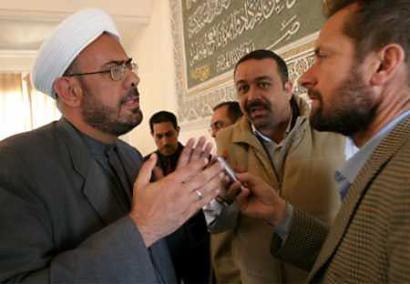 Muhammed Bashar al-Faidhi(L), a Sunni cleric, discusses Iraq's recent elections with reporters in Baghdad February 2, 2005. A leading group of Iraqi Sunni clerics said on Wednesday any government emerging from Iraq's landmark election would lack legitimacy because many people had boycotted a poll they said was tainted by a U.S.-led occupation.[Reuters]

Iraqis defied militants' threats and flocked to the polls on election day in the Shi'ite south and Kurdish north, but many in the central Sunni Arab heartland -- where the 22-month-old anti-American insurgency is strongest -- stayed home.

While Bush's administration insisted the election was conducted fairly and world leaders heaped praise on Iraqi voters, Iraq's Muslim Clerics' Association railed against the country's first multi-party ballot in half a century.

"These elections lack legitimacy because a large segment of different sects, parties and currents ... boycotted," the Sunni religious group said in a statement as the vote count proceeded.

"This means the coming national assembly and government that will emerge will not possess the legitimacy to enable them to draft the constitution or sign security or economic agreements."

A sense of alienation among minority Sunni Arabs, who formed the backbone of Saddam Hussein's ruling class, poses a major challenge to Iraq's new leadership, which is certain to be dominated by members of the long-oppressed Shi'ite majority.

Many Iraqis fear the election results, which are expected to be finalized early next week, could fuel the Sunni-led insurgency and foment sectarian strife. Al Qaeda's leader in Iraq, Abu Musab al-Zarqawi, has vowed to pursue "holy war."

"We warn the United Nations and the international community of the danger of granting these elections legitimacy because this will open a door of evil," the clerics' group said.

POLICY SHIFT?

Bush's remarks appeared to signal a coming shift in U.S. policy in Iraq, where the U.S. troop role in Iraq until Sunday's elections has been both to fight insurgents and train Iraqi security forces.

"The new political situation in Iraq opens a new phase of our work in that country," Bush said in speech excerpts released by the White House. "We will increasingly focus our efforts on helping prepare more capable Iraqi security forces -- forces with skilled officers and an effective command structure."

Claiming victory in the elections even before the release of the first results, Abdul Aziz al-Hakim, who tops the candidate list for the main Shi'ite-led coalition, said it was important for Sunni Arabs to help shape Iraq's political future.

Prime Minister Iyad Allawi, a secular Shi'ite seen as a possible consensus candidate to stay in office, said talks on the makeup of the new transitional government had reached agreement that all groups should play a role.

Acknowledging problems with the election, Adnan Pachachi, Iraq's leading secular Sunni politician, said he was working to build consensus among Sunnis to ensure they take part in the next round of voting in December for a full-term government.

But the Sunni clerics stood firm. They had urged an election boycott in protest at U.S.-led assaults on Sunni cities and said the poll could not be fair with foreign troops on Iraqi soil.

"All Iraqis are waiting for the opportunity to hold comprehensive, free and just elections that have legitimacy ... after the withdrawal of the occupation," the Sunni group said.

Iraqis voted for a 275-member transitional national assembly that will appoint a government and draft a constitution to be approved by referendum in October.

Despite its rejection of the polls, the clerics said they would respect the decision of Iraqis who voted but would regard the new government as having only limited powers.

The group met a senior U.S. embassy official before the elections and offered to drop its boycott if Washington set a timetable for troop withdrawal. The official refused.

Interim leaders say it is too early to ask foreign troops to leave until the country's security forces are built up.

Bolstered by their role in thwarting attacks on election day, Mosul's police chief, Brigadier Mohammed Ahmed al-Jabouri, has given insurgents until Feb. 15 to turn in their arms.

"Hand over your weapons or we will come and get you," he said on a local TV broadcast to Iraq's third largest city.

Two months ago, virtually the entire police force deserted after rebels overran police stations. The police chief was sacked and Jabouri was appointed. Al Qaeda released a video vowing to kill Mosul's governor for denouncing Zarqawi's group.

In a statement posted on a Web site used by al Qaeda, Osama bin Laden's deputy, Ayman al-Zawahri, was quoted as condemning the Iraqi election as a "sham."

"We can not have free elections and an independent government ... while crusader and Jewish forces are sullying our land, killing, striking, arresting and torturing anyone," the undated statement said.




Today's Top News
Top World News

New stock hopes spark strong rebound




Chen invites ARATS chief to visit Taiwan




China, US differ on EU's lifting arms ban




Russia, China tighten security links




All 30 law-breaking projects suspended




Spring Festival spawns business boom