Nepal king names new cabinet
(Agencies)
Updated: 2005-02-03 02:48
Nepal's King Gyanendra unveiled a 10-member cabinet under his leadership on Wednesday, a day after he sacked the prime minister for failing to hold elections or end an escalating civil war with rebels.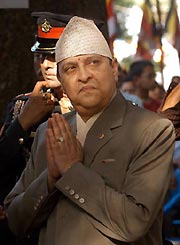 Nepalese King Gyanendra seen arriving to attend a function in Kathmandu in this May 4, 2004 file photo. [Reuters]

Amid global condemnation, a South Asian summit in Dhaka, which the king was due to attend next week, was postponed as India pulled out, partly in protest at the king's move.

Life carried on as normal on the streets of Kathmandu, but the revolt-racked country remained largely cut off from the rest of the world a day after the king dismissed Prime Minister Sher Bahadur Deuba and assumed power himself.

Gyanendra declared a state of emergency, suspended civil liberties, including press freedom, and placed many leading politicians under house arrest. He said his new government would aim to restore multiparty democracy within three years.

Phone lines and internet links from Nepal remained cut. But air links, badly disrupted by the takeover, were restored.

The king's move to take power drew condemnation from the United States, neighbouring India, Britain and the United Nations.

But many Nepalis seemed happy to see the back of politicians widely regarded as corrupt and incompetent.

"We're very happy," said Simon, a bystander in the centre of town. "This will help restore order. He's a good man, but the politicians are corrupt. We have more chance of peace."

On a sunny day in Kathmandu, life appeared normal, with children in uniform going to school and no sign of increased security, apart from the usual army patrols.




Today's Top News
Top World News

New stock hopes spark strong rebound




Chen invites ARATS chief to visit Taiwan




US urge EU to maintain China arms embargo




All 30 law-breaking projects suspended




Spring Festival spawns business boom




Beijing starting meningitis vaccination