New stock hopes spark strong rebound
By Sun Min (China Daily)
Updated: 2005-02-03 01:53
Hopes for a fresh policy boost have finally triggered a long-awaited potent rebound on the stock markets after lows for more than five years.
Domestic stock markets rebounded by more than 5 per cent yesterday, after closing down for six consecutive sessions with new 68-month lows. But analysts differ as to whether the previous dives had hit the bottom.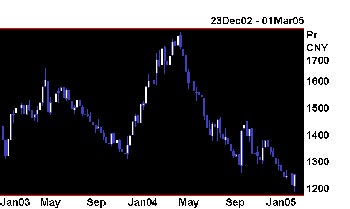 Investors finally started to buy more actively yesterday on expectation of a fresh policy boost, thus igniting a rare rally of the benchmark Shanghai composite index.
The index surged by 5.3 per cent during the day to close at 1,251.518 points. Combined transactions in Shanghai and Shenzhen also almost doubled yesterday to stand at 16.8 billion yuan (US$2 billion).
More than 30 stocks rose to their daily trade limit of 10 per cent yesterday, a sharp contrast to the market performance on Monday and Tuesday, when more than 40 stocks fell by nearly 10 per cent each day.
Before yesterday's rally, the Shanghai composite index had fallen below the psychologically crucial 1,200-point level two days in a row and finished at 1,188.931 on Tuesday, the lowest close since May 21, 1999.
"It is normal to see a technical rebound of the indices after they touch new lows," said Liu Zimin, an analyst with CITIC Securities. "But today's surge is the highest single-day rise in two years," she said.
The last comparable one-day surge was recorded in January 2003.
Shanghai's B shares also advanced by 5.11 per cent to 76.115 yesterday. Shenzhen sub-composite index earned 5.05 per cent to finish at 3,221.21.
Apart from the technical reason, there have also been market talks that the State Council might come up with new stimulus to support the bourses, which also heightened investment sentiment yesterday.
Liu said that auto stocks, many of which had undergone a sharp correction over the past few months, were a leading force in yesterday's market rally.
Some small and medium-capped stocks that had plunged heavily also bounced.
Bullish stage
However, it is still too early to say that overall investor confidence is repaired and the market is ready to enter a bullish stage, said Liu.
Most investors are still expecting concrete policy moves, not empty talk, she said.
Problems waiting to be solved include unsatisfactory market infrastructure, poor quality of many listed firms and the irrational share structure, which resulted from the existence of a bulk of nontradable State holdings.
The bourses have suffered from a lingering bearish performance for more than three years and investor confidence has been badly hurt, requiring fundamental reforms to upgrade the market image, experts said.
Stock picks have become more crucial to investors to make money under such circumstances.
Wang Hua, a fund manager with Yinhua Fund Management Co in Shenzhen, said institutional investors more favoured a number of blue-chip stocks, including large-caps in infrastructure sectors, such as some power, coal and steel stocks.
The investment value of the blue-chips that have solid results and stable growth is shining, as stock prices have generally fallen to a more rational level, said Wang.
The market has become more polarized, he said. The majority of A shares and B shares still have a long way to go to improve their fundamentals and corporate governance. And there may be more room for correction as some are still overpriced.
Meanwhile, many investors are still sitting on the sidelines as Spring Festival is coming and many companies are to release their annual results after the holiday. China's stock market will be closed during February 7 and 15 for the Spring Festival holiday.
(China Daily 02/03/2005 page1)
Today's Top News
Top China News

New stock hopes spark strong rebound




Chen invites ARATS chief to visit Taiwan




All 30 law-breaking projects building stopped




Project protects river ecosystems




Beijing starting meningitis vaccination




Nepal king names new cabinet