Chen invites ARATS chief to visit Taiwan
(Agencies)
Updated: 2005-02-02 17:51
Taiwan leader Chen Shui-bian invited the mainland's top cross-Strait negotiator to visit the island on Wednesday, calling the two sides to reopen political talks.
The invitation was extended to Wang Daohan, president of mainland's Association for Relations Across the Taiwan Strait (ARATS), at the memorial service of Koo Chen-fu, Wang's former Taiwan counterpart.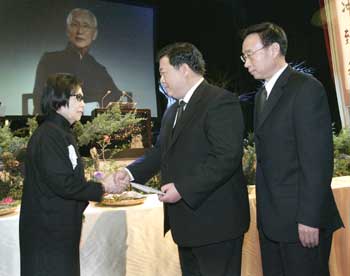 Sun Yafu (C), vice president of China's Association for Relations Across the Taiwan Strait (ARATS), shakes hands with Cecilia Koo (L), widow of the late Koo Chen-fu while ARATS secretary general Li Yafei looks on at a memorial service in Taipei on February 2, 2005. Sun presented a private letter from ARATS President Wang Daohan to Cecilia Koo. Sun and Li, personal envoys of ARATS President Wang Daohan, paid their last respects to Koo, former chairman of Taiwan-based Straits Exchange Foundation (SEF). Koo and ARATS President Wang Daohan had a meeting in the early 1990s and reached consensus on cross-Straits relations. [Reuters]

"We welcome Wang for a visit if his health and time permit," Chen said in his eulogy to Koo, former chairman of the Straits Exchange Foundation (SEF), who died of cancer last month aged 87.

Jia Qinglin, chairman of the National Committee of the Chinese People's Political Consultative Conference, China's top political advisory body, said on January 28 that the mainland is ready to talk with Taiwan "president" Chen Shui-bian as long as he agrees that the two sides of the Straits belong to the one and same China.

It was the first time that Beijing has categorically shown its willingness to deal with Chen, who was once branded as one of the separatists.

Due to Chen's denial of the one-China principle and obstinate push for Taiwan "independence," the mainland has ruled out any contact with the Taiwan leader since he took power in May 2000. "We are open on who to negotiate with and what to negotiate," said Jia, referring to Chen from the pro-independence Democratic Progressive Party (DPP).

"We have no bias against any particular person to talk to, nor will we hesitate to talk with the other side just because someone has come to power."

ARATS and SEF were set up in 1991 to handle civilian affairs between the two sides of Taiwan Straits.

Koo and Wang held a landmark dialogue in Singapore in 1993 which led to a series of meetings between both sides to explore ways to solve their disputes.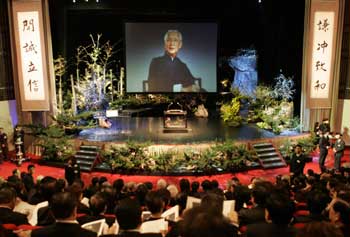 The family members of the late Koo Chen-fu hold a memorial service at the Sun Yat Sen Memorial Hall in Taipei on February 2, 2005. [Reuters]

Chen urged both sides Wednesday to learn from what has been achieved in the historic Singapore talks.

"We hope both sides, based on the same tolerance for each other (as at the Koo-Wang talks), would restart negotiations and dialogue... to create a new horizon for cross-Strait peaceful developments," Chen told the 2,500-strong crowd attending the service, according to an AFP report.

"We should actively seek reconciliation and resume dialogue to build mutual trust.... This is the spirit of the Koo-Wang talks and Koo's most valuable legacy to people from both sides of the Strait."

Koo visited the mainland in 1998 and met then President Jiang Zemin.

Wang had promised a return trip but cancelled after Lee Teng-hui, then Taiwan leader, claimed sovereignty over the island.

Wang, who is in weak health, sent ARATS vice president Sun Yafu and secretary-general Li Yafei to pay condolences to Koo, marking the highest-level mainland officials to visit to the island in 10 years.

Sun and Li paid their last respects to Koo's family after the memorial service.

"We will deliver the invitation (to Wang)," Sun told reporters.

Sun and Li arrived Tuesday, two days after the two sides exchanged the first direct cross-Strait flights in 55 years to shuttle Taiwanese businesspeople and their families back home for the Lunar New Year holidays.

Officials and experts said the trip itself was a barometer of the improved ties between Taiwan and the mainland.

"The trip is a crucial goodwill gesture from Beijing... either in the select personnel or scenario," Su Chi, from the opposition Kuomintang party and former head of Taiwan's "Mainland Affairs Council (MAC)."

But another former council chief Tsai Ing-wen remained cautious saying "it would be too early to say the icy ties are beginning to thaw."

While relations may have eased recently, the fundamental dispute between the two sides remains unresolved.

Beijing has refused to reopen talks unless Taiwan embraces the "one China" principle.




Today's Top News
Top China News

China shares snap six-day losing streak, up 5.35%




Chen invites ARATS chief to visit Taiwan




Meningitis outbreak 'controllable'




All eyes on China at G7 meeting in London




IPR disputes highlight absence of law




Pope hospitalized for breathing problems