Was 'abducted' US soldier in Iraq a toy?
(Agencies)
Updated: 2005-02-02 09:15
A picture of an "abducted" U.S. soldier in Iraq appeared on a Web site on Tuesday, but suspicion grew it was a hoax after a U.S. toy maker said it appeared to show a model soldier made by the company.
"Our mujahideen ... have managed to capture the American soldier John Adam after killing a number of his colleagues," said the Mujahideen Squadrons in the undated statement on a Web site monitored in Dubai. It threatened to kill him.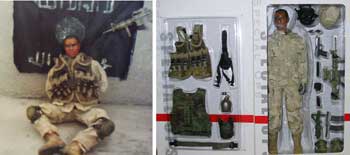 This combination photograph shows an image (L), which was posted on an Iraqi militant web site on February 1, 2005, appearing to show a U.S. soldier sitting in front of a black banner with a rifle pointed at his head; and an undated photograph (R) provided by figurine and toy distributor Monkey Depot.com, showing toy manufacturer Dragon Models USA's action figure 'Cody' in a box. Dragon Models USA said on February 1, 2005 that the photograph posted on the web site claiming to be a captured U.S. soldier resembled the toy action figure. Reports of a possible hoax surfaced after the group claimed that it was holding the soldier and threatened to kill him within 72 hours if Iraqi prisoners were not released, according to the Internet statement. [Reuters]

But Liam Cusack, marketing coordinator for California-based Dragon Models USA, said the picture appeared to show a special forces operative figure the company had made for collectors.

Defense officials at the Pentagon in Washington said the U.S. military had no indication any of its soldiers were missing in Iraq.

Cusack said the striking similarity between his company's action figure, which was marketed under the name "Cody," and the published picture, were pointed out to him early on Tuesday by an Arizona retailer.

"I worked on the development of that figure so I had seen the look of that head before," Cusack said. "We don't want to be the ones to say that it is (a hoax) for sure. Because if there is a search and rescue, that needs to be done."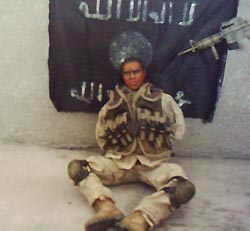 A little-known Iraqi insurgent group called Mujahideen Squadrons said on February 1, 2005 it was holding a U.S. soldier and threatened to kill him within 72 hours if Iraqi prisoners were not released, according to an Internet statement. [Reuters]

Cusack, speaking from his office at City of Industry, California, noted the rifle being pointed at the figure in the photograph posted on the Web site also appeared to be the plastic M4 rifle included with the figure.

The message and photograph were posted on a site run by a group calling itself al-Muntada al-Ansar, which has in recent months restricted access to the site to registered users in an effort to avoid unknown groups posting messages.

The site has been the main channel of communication in recent months for Abu Musab al-Zarqawi, the leader of al Qaeda in Iraq.

Insurgents in Iraq, including al Qaeda's wing in Iraq, have been waging attacks on U.S.-led forces since they invaded the country in 2003.




Today's Top News
Top World News

New stock hopes spark strong rebound




Chen invites ARATS chief to visit Taiwan




All 30 law-breaking projects suspended




Spring Festival spawns business boom




Beijing starting meningitis vaccination




Project protects Yangtze River ecosystems