IPR disputes highlight absence of law
(China Daily)
Updated: 2005-02-02 08:37
Luo Lianyong is a young salesman in a household appliance mall in eastern Beijing. He thinks DVD players are one of the least profitable appliances on sale there.
On his shelf, two local name-brand models are on sale, both look elegant and trendy. One sells at 598 yuan (US$72) and the other 648 yuan (US$78).
"Most DVD players are in this price range unless they have additional functions like Dolby or MEPG," he explained. "This is really the bottom price."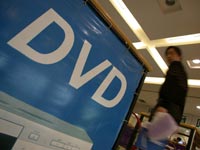 A poster for a domestic DVD brand at a department store in Nanjing, East China's Jiangsu Province. [newsphoto]
The salesman is certainly not the only one who feels DVD players are not a paying trade. Many manufacturers of the appliance have complained about the high cost of producing them for such low returns. At the heart of their complaint is patent fees for key DVD technology.
The running lawsuit between DVD player patent holders and Chinese manufacturers recently hit the headlines amid a volley from both sides.
The case started in September 2004, when Hong Kong Wuxi Multimedia Ltd and Orient Power (Wuxi) Technology Ltd, both Jiangsu-based companies, sued in the district court of San Diego, California, the 3C Patent Group comprising the Sony Corporation, Philips Electronics and Pioneer Corp.
The plaintiffs claimed the three patent holders fixed prices and unlawfully linked their patents, in addition to conspiring to monopolize the DVD player market. All of which, if proven, would be in violation of US law.
On December 28, the attorney for the original plaintiff filed an amended complaint which took in Orient Power as the second plaintiff, added LG Electronics as a defendant and made several new claims.
"We are seeking a judgment that the 3C patent pool is invalid and are calling for a monetary refund of all DVD player royalties collected," said Anton Handal, the plaintiff's attorney from the US law firm Handal & Associates.
"The activities of the 3C group give them an unfair advantage in price and delivery of competitive goods. In order to be legal the practice must be fair and not have a detrimental affect on competition," Handal told China Daily.
He said the defendants' actions violated the antitrust Sherman Act.
Philips Electronics, head of the 3C group, refutes the allegations, in particular it rejects the suggestion that it is acting in a monopolistic manner.
"The claim that we monopolize the market and drive Chinese producers out of it is incorrect," Ruud Peters, chief executive officer of Philips' Intellectual Property and Standards said in an interview with China Daily late last month.
"If Philips wanted to drive Chinese producers out of the market, why would it offer patent licences to them?" he said, noting that some 110 Chinese DVD player makers have been licensed by the 3C patent pool.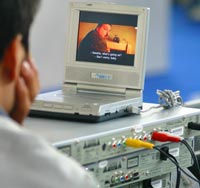 A visitor gives the once-over to a portable DVD player manufactured by a domestic plant at an exhibition in Nanjing. [newsphoto]
Peters denied a report alleging his company requested European Union and US customs to block DVD players from China.
He also said Philips is committed to helping perfect China's intellectual property rights (IPR) system. Philips last year teamed up with three leading Chinese universities to form academies to help IPR experts and judges, with a US$100,000 investment in each academy.
Legal concerns
Chinese legal professionals are keeping a close eye on the lawsuit, believing it will not only matter to the future of many DVD player manufacturers, but be a valuable lesson to China's fledgling IPR system and antitrust regulation, currently in the pipeline.
"It is a pity that our IPR rules are too inadequate to tackle IPR abuse," said Li Shunde, a researcher of the IPR Centre of the Chinese Academy of Social Sciences (CASS).
China began legislating on patent, trademark and copyright two decades ago, and has yet to develop an anti-monopoly law. This is one reason that the DVD player makers had no way to sue patent holders at home.
"It's inappropriate to judge the ongoing lawsuit, but in this case there might be some points that we can look into for reference for future legislation," said Li.
He said the package sale of patents is open to question.
"The users can either buy everything in the patent pool or have nothing to buy. This is one of the symptoms of IPR abuse," he said.
Li also expressed concern about the occasional practice of some multinationals combining patents with technical standards. He said although patents are exclusive and should be paid for if used, standards should be open and optional.
"Users of a patent pool often have to accept the specific technical standard combined with the patents, which will in a way strengthen the patent holder's clout over technical standards," he said.
Normally, such a combination is not of concern. But if the patent holder abuses its edge as a result of such a combination, it may contravene monopoly regulations, said Li.
Reasonable patent fees must, of course, be paid. "You must respect intellectual property rights. In this case, domestic manufacturers did fail to master core technology and this is the key reason they were in some ways disadvantaged," he explained.
"But from a wider perspective, we need sound legislation which enables a clear judgment to be made on such disputes and ensure the smooth running of IPR-related business," he added.
Feeding fish before eating them?
DVD player producers are able to decide whether they want a single licence from the patent pool or separate licences from each of the companies in the group, said Ruud Peters.
Although Philips encourages companies to take licences from the pool, which are more convenient for both applicants and patent holders, it does not force them to do so, he insists.
Anton Handal, however, argues that in practice there is no mechanism for Chinese companies to apply for separate patents.
Since 2002, foreign firms holding patents of relevant technologies, including the 3C Alliance led by Philips, the 6C Alliance (Panasonic, JVC, Hitachi, Toshiba, Mitsubishi Electric, and Time Warner), and 1C (French Thompson), began to charge Chinese DVD machine makers patent fees for using core technologies in their exported DVD machines. Since 2003, they have been levying patent fees on DVD players sold within China.
Patent fees levied on Chinese DVD player manufacturers are around US$20 per unit, representing nearly 20 to 30 per cent of production costs.
Prices are constantly down given the fierce competition. Some household appliance stores even give away DVD players to customers buying major appliances.
The number of domestic DVD player makers more than halved after 2003, with many of them going out of business or switching to making other electronic products in order to break even.
But the difficulties and losses suffered by these manufacturers is as a result of market competition and is not the fault of Philips' patent policy, according to Peters.
In the eyes of many DVD player manufacturers, however, the patent fee may not only be about IPR protection. China's DVD player industry, begun in the mid 1990s, boomed as more and more entrepreneurs profited from making the trendy appliance.
But patent holders did not ask for money until three years ago when the manufacturers matured. This tactic is dubbed by some as "feeding a fish before eating it."
Some also challenged the pricing methodology of the patent pool.
"One problem as I see it is the fixed patent fee rate," said Li Shunde of the CASS. "It's all right to charge US$20 for the patent when the completed product sells at US$200, but when the price is only a fraction of that, it is not reasonable to maintain the patent fee at the same level."
He also questioned the practice by DVD patent holders of charging manufacturers of complete products rather than parts makers.
"Makers of key parts of DVD players use the patents first, but the patent holders did not charge them and instead charge completed products for the whole bill, and this is a problem," said Li.
In a statement issued on January 20 about the ongoing DVD lawsuit, Philips argued that US patent law "neither prescribes any specific maximum level of royalties to be paid for the use of patents, nor prescribes that royalties should be calculated as a percentage of the product price."
Example to legislators
The plaintiff's attorney Handal remains buoyant about the final outcome of the lawsuit.
"My confidence comes from having dealt with the 3C group for quite some time. I have personally observed conduct that is anti-competitive," he says.
"In addition, I have seen how they have failed to comply with their obligations as set forth in their Business Review letter to the (US) Department of Justice."
Handal conceded the time and effort required in prosecuting a case of this magnitude are unfavourable factors, but said the plaintiffs have the resolve and are prepared to carry the case to its conclusion given its importance to manufacturers and consumers alike.
"Although DVD technology is nearing its end, we hope the lessons that are learnt in this action will dictate the way patent poolings are managed in the future."
His words have struck a chord with many.
"I'm not in a position to comment on the patent fee disputes in this case, but I think there is one thing many people have to contemplate: How can our legal system cope with such cases?" said Huang Yong, professor of law at the University of International Business and Economics.
He said future legislation on monopolies needs to stipulate clear criteria of activities deemed anti-competitive, and the ongoing DVD suit could be an example for legislators to study.
Today's Top News
Top China News

Shares dip to 68-month low in Shanghai




Laid-offs, graduates key jobless priorities




Meningitis outbreak 'Controllable'




Fund to cover employed, new mothers




IPR disputes highlight absence of law




Was 'abducted' US soldier in Iraq a toy?