Laid-offs, graduates key jobless priorities
By Wu Chong (China Daily)
Updated: 2005-02-02 01:50
Laid-off workers are again the crux of China's unemployment problem this year, while creating jobs for young people also is making the situation tougher.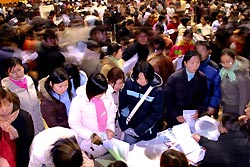 The photo shows a crowed job center in Nanton, East China's Jiangsu Province, January 21, 2005. [newsphoto/file]

Wang Yadong, a senior official at the Ministry of Labour and Social Security said yesterday the year will conclude the government's three-year policy of actively promoting employment.

The plan was adopted in 2002 to provide subsidies and job opportunities for laid-off workers.

A system of unemployment insurance will take its place, he told a news briefing.

"We will stop subsidies for those registered in re-employment service centres and include those who are not able to find jobs again in the system," said Wang, deputy director of the ministry's department of training and employment.

By the end of last year, there were 1.53 million laid-off workers from State-owned companies nationwide, with 930,000 currently registered in re-employment service centres.

Ministry spokesman Hu Xiaoyi said officials will expand the unemployment insurance system this year to employees of non-State-owned enterprises.

Ministry statistics show 105.8 million people were covered by unemployment insurance at the end of last year, 2.1 million more than the previous year.

So far, a dozen provinces - mostly in the east and the north - have established such systems, while western areas will catch up gradually, Wang added.

Meanwhile, the number of jobless young people is on the rise. Fourth quarter statistics show young people make up an increasing part of the unemployed, up 0.7 per cent from the same period over last year.

Some experts predict 2005 will see 500,000 more unemployed college students than last year.

Analysts say the upward expansion in college enrolment in recent years is much to blame since it has ignored unbalanced industrial development and has failed to match market demands by profession.

The grim employment situation can also be found in some poor areas, several industries and some special groups, including the disabled.

"We can anticipate a difficult situation in some old industrial cities in Northeast China and cities that are short of resources," said Wang.

The ministry said it will lay out a new package of measures to solve employment quandaries among college students, the rural labour force and laid-off workers during the third quarter of this year.

Unemployment rate

The ministry has predicted an urban registered unemployment rate in 2005 at 4.6 per cent, a slight drop from last year's 4.7 per cent.

Last year the country's urban registered unemployment rate was 4.2 per cent, its first drop in a decade.

Wang said the State's goal of keeping the gross domestic product (GDP) at a growth rate of 8 per cent this year has maintained his confidence in the job market.

The ministry's efforts to ease employment tensions this year will start with some preferential policies for industries that have great demand for labour, such as information technology, tourism, construction and beauty parlours.

The ministry will also increase job vacancies in communities charities, with a policy of offering subsidies.

"We will continue to strengthen re-employment training and training in business establishments this year," Wang added.




Today's Top News
Top China News

Laid-offs, graduates key jobless priorities




Meningitis outbreak 'Controllable'




Fund to cover employed, new mothers




IPR disputes highlight absence of law




US soldier reportedly captured in Iraq




Shares dip to 68-month low in Shanghai