Shares dip to 68-month low in Shanghai
By Sun Min (China Daily)
Updated: 2005-02-02 01:50
Chinese shares welcomed February with a new 68-month low yesterday, with the benchmark Shanghai composite index finishing at 1,188.931, down 0.24 per cent from the previous session.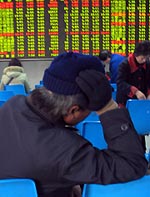 A stockholder sit at a loss in the stock exchange center in Shanghai on Febuary 2, 2005. [newsphoto]


The index has been falling for six consecutive sessions since January 25. On Monday, for the first time, it closed below the psychologically important 1,200-point-level since May 21, 1999.

A rebound in power generators pulled up the index in the morning session yesterday, but the rally did not hold during the afternoon.

Market sentiment is very weak, so it is unlikely to turn around dramatically in the near term, said Yin Guohong, an analyst with China Securities Co in Beijing.

More than 40 stocks listed in Shanghai and Shenzhen plunged by or almost by their daily trade limit of 10 per cent yesterday, a similar story to Monday.

The prices of around 100 stocks have fallen below their net asset value so far.

The mainland's stock market has been haunted by bearish performance for more than three years. Last year alone, the Shanghai composite index lost 15.4 per cent.

Even policy stimulus did not have much effect on rejuvenating the sentiment in the bourses. The latest announcement of a 50 per cent reduction in stock transaction duties on January 23 only triggered a brief rally in the following session and soon lost strength.

But how long the latest round of downfall lasts still much depends on the attitude of the authorities to reform the stock market and upgrade fundamentals, said Yin.

Investors expected concrete moves on that aspect, he said.

It is necessary to solve many long-discussed issues such as the improvement of the quality of the listed firms and the irrational share structure.

"The authorities should be able to find solutions if relevant regulators and experts put their heads together and put group interest aside," said Yin.

Analysts also noted that the present market correction may last for some time.




Today's Top News
Top China News

China shares snap six-day losing streak, up 5.35%




Meningitis outbreak 'Controllable'




All eyes on China at G7 meeting in London




IPR disputes highlight absence of law




Was 'abducted' US soldier in Iraq a toy?




Pope hospitalized for breathing problems