Meningitis outbreak 'controllable'
By Liu Weifeng and Cao Desheng (China Daily)
Updated: 2005-02-02 01:50
The current meningitis outbreak in parts of China is of a reasonable size and controllable, officials said.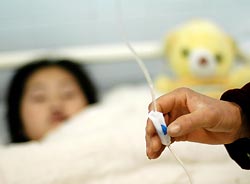 Relative of a Meningitis patient adjusts the injection in Dongtai, East China's Jiangsu Province, Feburary 1, 2005. [newsphoto]

No new infections or deaths were reported yesterday.

Sixteen people have been confirmed dead from the disease since January.

"It's not necessary to panic," said Deng Haihua, a Ministry of Health (MOH) official.

Cerebral-spinal meningitis, an acute infectious disease that spreads through the respiratory system, is not as contagious as the flu or the common cold, which usually occur during winter and spring, he said.

The deaths of five students in East China's Anhui Province caused by the disease last month, has attracted intense attention from officials and the public.

The tested group C bacteria from the Anhui cases, which is responsible for the fatalities, has increased among the general public, officials said. Meningitis is easily spread among children, who are among the most vulnerable people in society.

Vaccinations injected to guard against the epidemic have been widely carried out throughout China since 1984. But the vaccine being adopted for decades to fight against group A bacteria, the leading cause of meningitis in China, is not effective on group C bacteria which has a higher contagious possibility than group A.

The disease caused by group C bacteria is also characterized by a quick and acute ability to spread, quickly develops and carries a high death rate.

Vaccine to group C bacteria is available in China, produced by a pharmaceutical manufacturer in Lanzhou, the capital of Northwest China's Gansu Province.

All the provinces, except Southeast China's Fujian Province, Southwest China's Tibet Autonomous Region and the tropical Hainan island in South China, have reported cases, according to an MOH statement.

Statistics indicate that meningitis sufferers numbered 2,250, 2,551, 2,535 and 2,698 cases, from 2001 to 2004, a slight increase on a year-on-year basis.

In Beijing, the first batch of vaccines to help prevent group C bacteria are expected to arrive in the capital in the next two days, said Li Guoying, an official with the Beijing Municipal Centre for Disease Control and Prevention.

"This is a new vaccine to Beijing," Li said. The city is still a disease-free place entering this winter.

With the impending of the Spring Festival, the MOH has issued an emergency notice for a general appeal to fight possible further development of the disease.

Because the Lunar New Year involves such fluid population movement across China, transportation departments are on the alert.

No meningitis cases have been found to be travelling this year, a press official surnamed Li from the Ministry of Railways said.

"We have urged local railway administrations to organize disease prevention squads to strengthen decontamination measures in railway stations and trains," Li said.

Every year in peak travel seasons such as in Spring Festival holidays, railway departments will start emergency plans for epidemic prevention, she said, adding no special measures have been taken so far to target meningitis.

In the next 30-plus days, about 145 million people are expected to travel by rail for family reunions.

Responding to the Ministry of Health, the General Administration of Civil Aviation of China yesterday urged airlines and airports to take concrete measures to prevent the disease from spreading via air transport.

The Ministry of Education has urged local education departments to take actions to prevent the disease from spreading among students.




Today's Top News
Top China News

China shares snap six-day losing streak, up 5.35%




Meningitis outbreak 'controllable'




All eyes on China at G7 meeting in London




IPR disputes highlight absence of law




Was 'abducted' US soldier in Iraq a toy?




Pope hospitalized for breathing problems