Flights turn back as Nepal shuts main airport
(Agencies)
Updated: 2005-02-01 17:36
International flights to Nepal were turned back on Tuesday as the airport in the capital Kathmandu was closed after King Gyanendra sacked the government and assumed power, airline officials said.
Kathmandu's Tribhuvan International Airport was apparently shut down, along with telephone and mobile phone networks in the Himalayan country, largely cutting it off from the rest of the world.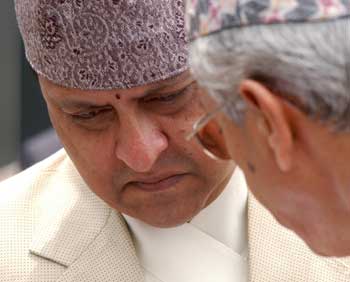 Nepal's King Gyanendra listens to one of his subjects in Gokarna, near Kathmandu in this May 17, 2004 file photo. Gyanendra sacked the government on February 1, 2005, announcing the decision in an address broadcast on state radio. Prime Minister Sher Bahadur Deuba had been reappointed last June, about two years after Gyanendra fired him for failing to tackle a long-standing revolt against the monarchy. [Reuters]

"We are told that Kathmandu is shut down today due to a general strike after the king fired the government," an official of state-run Indian Airlines told Reuters.

It was not immediately known when air links would be restored. Of four daily flights between New Delhi and Kathmandu, operated by different airlines, three were not allowed to land while the fourth, leaving later in the day, was cancelled.

"Our aircraft returned and all our flights to Kathmandu are cancelled until further notice," the Indian Airlines official said.

Officials at private Indian carriers Jet Airways and Air Sahara also said their aircraft were turned back after they had taken off from New Delhi for Kathmandu.

A Thai Airways official in New Delhi said its flight from Bangkok to Kathmandu had also gone back to the Thai capital without landing in Kathmandu.

Road links between India and landlocked Nepal were, however, open, an Indian customs official said.

"The border is open. Trade is taking place and there is movement of people," a customs inspector told Reuters by telephone from the border town of Jogbani in the eastern Indian state of Bihar.

"So far there is no problem. Everything looks normal."

Gyanendra sacked Prime Minister Sher Bahadur Deuba's government saying it had failed to hold long-delayed elections or restore peace amid an escalating civil war with anti-government rebels.




Today's Top News
Top World News

Experts forecast price rise, population growth for Beijing




Closing farm-urban income gap 'top' goal




More meningitis cases, but no new deaths




Central bank plans more market moves




China, US discuss setting up defense hotline




Allawi calls for unity after Iraqi vote