Nepal's king dismisses government
(Agencies)
Updated: 2005-02-01 17:01
King Gyanendra dismissed Nepal's government on Tuesday and declared a state of emergency, taking control of the Himalayan kingdom for the second time in three years.
He denied his takeover was a coup, although soldiers surrounded the houses of Prime Minister Sher Bahadur Deuba and other government leaders.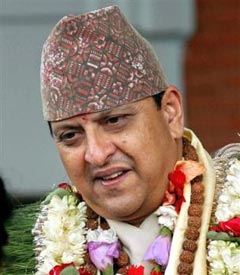 Nepal King Gyanendra looks on during the celebration of his 57th birthday at the Narayanhiti Royal Palace in Katmandu, Nepal, in this July 7, 2004 file photo. [AP]

"We will oppose this step," Deuba, who was not allowed to leave his home, told reporters in brief comments.

Armored military vehicles with mounted machine guns were patrolling the streets of Katmandu, the capital, and phone lines in the city had been cut. Airlines reported that the Katmandu airport had been closed to flights. Long lines quickly formed at grocery stores and gas stations, as worried residents stocked up on supplies.

Gyanendra's late father, King Mahendra, established a government and parliament but retained absolute power and outlawed political parties. The absolute monarchy ended when street demonstrations forced the king to give way to a multiparty government in 1990.

Since then, Nepal has been wracked by a war against leftist rebels, often testy relations between the king and government, and the killing of 10 royal family members in a massacre.

"We are so confused. We don't know what is going on or what will happen," said Narayan Thapa, a government worker in Katmandu. "I am worried I can't reach my family on the phone."

In an announcement on state-run television, the king accused the government of failing to conduct parliamentary elections and being unable restore peace in the country, which is beset by rebel violence.

"A new Cabinet will be formed under my leadership," he said, accusing political parties of plunging the country into crisis. "This will restore peace and effective democracy in this country within the next three years."

Later, state-run television reported that a state of emergency had been declared.

The monarch, who is also the supreme commander of the 78,000-member Royal Nepalese Army, said security forces would be given more power to maintain law and order. But he insisted human rights would be respected.

Deuba also was fired as prime minister in October 2002, sparking mass street protests demanding the restoration of an elected government.

The king reinstated Deuba last year with the task of holding parliamentary elections by March 2005 and conducting peace talks with the rebels.

Nepal has been in turmoil since Gyanendra, 55, suddenly assumed the crown in 2001 after his brother, King Birendra, was gunned down in a palace massacre apparently committed by Birendra's son, the crown prince, who also died. Ten members of the royal family were killed.

Riots shook Katmandu after the killings. Soon after, fighting intensified between government forces and the rebels, who control large parts of Nepal's countryside.




Today's Top News
Top World News

Laid-offs, graduates key jobless priorities




Meningitis outbreak 'Controllable'




Fund to cover employed, new mothers




IPR disputes highlight absence of law




Was 'abducted' US soldier in Iraq a toy?




Shares dip to 68-month low in Shanghai