New Gaza violence strains de facto truce
(Agencies)
Updated: 2005-02-01 08:52
Palestinian militants shelled Jewish settlements on Monday after witnesses accused Israeli troops of killing a girl at a U.N.-run Gaza school, straining a de facto truce that has raised hopes for peace.
The incidents punctured the relative calm that has settled over the Gaza Strip over the past two weeks, following new Palestinian President Mahmoud Abbas's efforts to coax gunmen into a cease-fire ahead of a planned Israeli pullout this summer.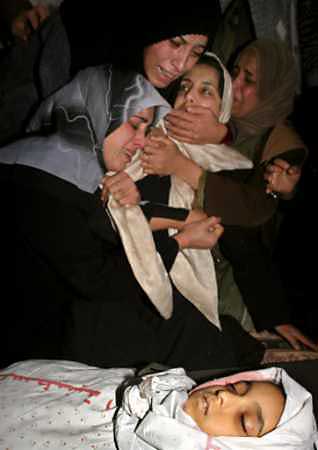 Palestinian women mourn over the body of a 10-year-old girl during her funeral in Rafah refugee camp January 31,2005. Israeli army gunfire killed Noran Deeb in a schoolyard in the southern Gaza Strip on Monday, witnesses said, in an incident that clouded a new spirit of Israeli-Palestinian cooperation. [Reuters]

Abbas has won plaudits from Israel and the United States, chief patron of a peace "road map," but the White House urged him to disarm Palestinian militants as required by the plan.

Abbas seeks to co-opt the armed factions, fearing a crackdown could cast him as an Israeli stooge in the eyes of Palestinian embittered by ongoing bloodshed.

Ten-year-old Noran Deeb died in a playground at Rafah refugee camp, but a military spokeswoman said no Israeli forces were involved in any shooting in the area.

Hamas and kindred militant group Islamic Jihad launched mortar bombs and makeshift rockets at the Gush Katif settlement bloc after the girl's death, causing no casualties.

Spokesmen for the groups, both sworn to the Jewish state's destruction, described the salvoes as retaliation and said further violence would depend on Israeli military actions.

"We heard Abu Mazen (Abbas) talking about redeployment," Deeb's mother said. "We heard talk about a cease-fire. But it seems there is nothing like that on the ground."

Witnesses said Deeb was killed by gunfire from an Israeli army post down the road while she and classmates were exercising in their schoolyard during morning assembly.

Soldiers and militants have often clashed in Rafah, near the border with Egypt, during the 4-year-old Palestinian uprising.

A Reuters correspondent visiting the blood-stained schoolyard said it did not appear that Israeli soldiers some 600 meters (yards) away could have seen into the compound from their position behind high walls.

Witnesses said there were no confrontations between soldiers and gunmen at the time of the shooting.

WEST BANK PULLBACK TALKS

Abbas's representative, Mohammed Dahlan, and Israeli Defense Minister Shaul Mofaz met in the evening to try to finalize an Israeli troop pullback from West Bank cities.

Palestinian security sources said Dahlan would voice his displeasure over the killing of the schoolgirl at the talks, which followed a meeting between the two men on Saturday.

The sources said Ramallah, where the Palestinian Authority has its headquarters, was likely to be the first West Bank city to be handed over to Palestinian security forces. Mofaz said on Sunday pullbacks could begin within days.

The Israeli army has checkpoints around West Bank cities and has mounted frequent incursions in pursuit of wanted militants, operations the Palestinian sources said would end on condition Abbas kept the gunmen in check.

Last week, Palestinian security forces fanned out across southern Gaza, building on an earlier deployment in the northern part of the territory, following talks between Israeli and Palestinian officials.

White House spokesman Scott McClellan praised Abbas for the deployment, but called for tougher action against the militants.

"A cease-fire can help end the violence," McClellan told reporters. "But ultimately we need to dismantle those terrorist organizations that exist."

US President Bush has enthusiastically backed Abbas, elected earlier this month to replace Yasser Arafat.

US Secretary of State Condoleezza Rice will visit Israel and the West Bank on Monday. She will later attend a conference in London on Palestinian reforms. The Bush administration is expected to provide an extra $200 million in aid this year to the Palestinians.

"This is a very hopeful period and a historic opportunity that we need to seize. And now is the time to do that," McClellan said.




Today's Top News
Top World News

Closing farm-urban income gap 'top' goal




More meningitis cases, but no new deaths




Central bank plans more market moves




China, US discuss setting up defense hot line




Allawi calls for unity after Iraqi vote




Risk controls urged for Bank of China