Closing farm-urban income gap 'top' goal
By Zhao Huanxin (China Daily)
Updated: 2005-02-01 03:06
Farmers should expect their income gap with urbanites to narrow in the years ahead, a senior agricultural policy-maker said yesterday in Beijing.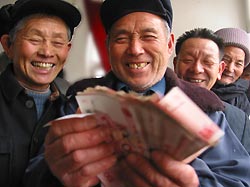 Farmers display the money they earned in Wenling, Zhejiang Province, January 31, 2005. [newsphoto]

Chen Xiwen, deputy director of the Office of Central Financial Work Leading Group, also said new trade barriers imposed by importing nations contributed to China's staggering agricultural trade deficit last year.

"The income gap between rural and urban residents has not further expanded in 2004, thanks to a raft of policies to prod farmers' income growth, plus favourable weather and surging grain prices last year," Chen told a press conference yesterday.

Sluggish growth rate for rural incomes has long hampered China's rural development, while increasing money in farmers' wallets has been listed as a top priority for the central government for years.

In 2005 again, central authorities have designated "sustained, increased incomes for farmers" as a top task, according to a document released by the Central Committee of the Communist Party of China and the State Council on Sunday.

The document, widely referred to as "No 1 Document," continues all the tax cuts, subsidies and other policies welcomed by farmers last year into 2005, promising more such support will come farmers' way.

Tax cuts, exemptions and subsidies translated into a direct benefit of 45.1 billion yuan (US$5.4 billion) to farmers last year, Chen said

Average farmers' per capita income grew by 6.8 per cent year-on-year to reach 2,936 yuan (US$353.7) in 2004, the fastest annual pick-up since 1997, Li Deshui, commissioner of the National Bureau of Statistics, said last Tuesday.

Urban residents, on the other hand, saw their per capita income swell by 7.7 per cent to hit 9,422 yuan (US$1,135) in 2004, which is 3.21 times as much as that of a typical rural dweller, slightly down from the same gap (3.23 times) in 2003, the bureau statistics indicated.

"Given that China has at least 800 million farmers, it is difficult for them to catch up with urban residents in terms of income in a short period," Chen said.

But development momentum beats speculation that the rural-urban income gap may be exacerbated in the years ahead, he said.

"It is simply impossible for the scenario to occur, in which as claimed by some experts urban income will be seven times as much as rural income in 2020," he said.

Apart from policies to relieve farmer's financial burdens, China not only regulates its farm produce market to stabilize prices but also tries to cut the number of farmers so that farmers who have not migrated to cities for work can expand their production scale, he said.

In addition, the No 1 Document says finance departments at various levels should pool at least 70 of their newly increased funds - for education, health, culture and other social undertakings - to rural areas.

"The growth of farmer's income will gradually go on a fast track, though the course may take a long time," he said.