Central bank plans more market moves
By Zhang Dingmin (China Daily)
Updated: 2005-02-01 03:06
The Peoples's Bank of China (PBOC) unveiled further steps it is planning to promote the liberalization of its interest rate regime yesterday.
Analysts say the steps demonstrate a firm commitment to pressing ahead reforms will help banks adopt to a market economy environment but cause short-term difficulties among weaker lenders.
The central bank listed the moves in the pipeline yesterday in a report published on its website. The bank said it will unify interest rate policies of all financial institutions, revise related rules and regulations, and help banks improve their skills in pricing loans.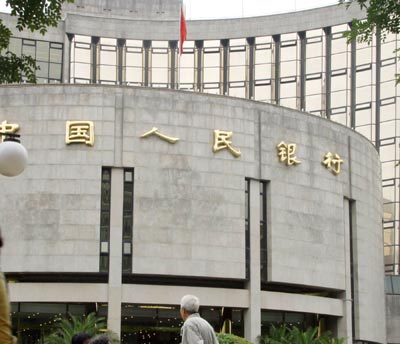 Headquaters of the People's Bank of China in Beijing. [newsphoto]
The steps would also promote the development of financial markets and enhance the PBOC's own ability in guiding interest rates and supervising the market.
The bank has been loosening controls on interest rates in recent years. Such controls have distorted the price of money, reduced the efficiency of the financial sector and have blunted Chinese banks' sensitivity to market risks, analysts say.
After setting free interest rates in the interbank market and those on large-sum foreign currency deposits, the central bank removed the upper limit on lending rates by commercial banks late last year. It allowed them to lower rates on deposits, but kept the ban on raising deposit rates.
The PBOC said it will promote the liberalization of deposit rates by loosening threshold requirements on large deposit agreements. Interest rates on these are typically negotiated between the banks and institutional depositors.
As for foreign currency-denominated deposits, the central bank currently dictates rates for deposits smaller than US$3 million in a few major currencies, such as the US dollar and the euro.
The PBOC said yesterday it will further liberalize such rates by simplifying the administration of rates it continues to manage and allowing the rates on certain types of deposits smaller than US$3 million to float freely.
The bank said there was a need for banks to enhance their ability to price loans according to risk factors and costs, so as to prevent price undercutting.
Today's Top News
Top China News

Closing farm-urban income gap 'top' goal




More meningitis cases, but no new deaths




Central bank plans more market moves




Rumsfeld may visit Beijing this year




Allawi calls for unity after Iraqi vote




Risk controls urged for Bank of China