More meningitis cases, but no new deaths
By Jiang Zhuqing and Liang Qiwen (China Daily)
Updated: 2005-02-01 03:06
No new patients died of meningitis yesterday though a few more infectious cases were reported around the nation.
Meanwhile, medical experts warned that Anhui Province, where the disease has led to the death of eight people, is facing short supplies of suitable vaccine.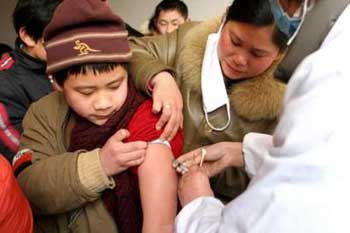 A child is vaccinated against meningitis in Chuzhou, east China's Anhui province January 30, 2005. [newsphoto]

The disease of cerebro-spinal meningitis can be caused by 13 groups of bacteria. Of those A, B and C bacteria are the three major groups that are responsible for the present situation in China, Zhou Zhiping, a doctor with the army's 302 Hospital in Beijing said on Sunday.

Previous vaccine injected by people was to prevent an outbreak of the meningitis caused by group A bacteria, Zhou said. Meanwhile, the ongoing outbreak of meningitis in Anhui, as well some other places, was caused by group C of meningitis diplococcus.

Zhou told the Beijing News that his hospital has neither received a meningitis patient affected by group C bacteria, nor was it equipped with corresponding vaccine.

Reports said there is only one pharmacy in China that could produce vaccine against group C bacteria and its production capacity is limited.

Meanwhile, disease control departments in relevant regions have reacted immediately and efficiently to deal with the outbreak of the disease as well to curb the spread of possible panic, health officials said.

Incomplete statistics indicated that less than 100 cases of cerebro-spinal meningitis were reported in Anhui, Jiangsu, Jilin and Guangdong provinces by the end of January, reports said.

A total of 61 cases have been found in East China's Anhui, making it the largest victim of the outbreak, reports said.

Wang Jianguo, vice-director of the Anhui Provincial Centre of Disease Control and Prevention, said continuous studies on the spread of group C bacteria as well its distribution are being conducted by medical researchers.

"The situation of all the six patients affected by meningitis is stable after hospitalization in Tangyang Township," said Jiang Renjie, an official with the local disease control and prevention centre of Yancheng in Jiangsu Province.

He said that the provincial disease control centre has allocated more than 50,000 doses of vaccine, mainly for children in the city of Yancheng.

Only one man has contracted meningitis in Guangzhou, capital of South China's Guangdong, since December 2004, reports said.

The patient has recovered and left hospital, said Tang Xiaoping, director of Guangzhou People's No 8 Hospital, a special hospital for infectious diseases.

The patient, a 19-year-old migrant worker from South China's Guangxi Zhuang Autonomous Region, was affected by meningitis bacteria through his respiratory system when he was working, reports said.

On December 31, he was sent into the Guangzhou People's No 8 Hospital for treatment and has left the hospital half a month ago after recovery, director Tang said.




Today's Top News
Top China News

Closing farm-urban income gap 'top' goal




More meningitis cases, but no new deaths




Central bank plans more market moves




Rumsfeld may visit Beijing this year




Government backs TCM to improve rural care




Beijing sees first passenger peak