Beijing sees first passenger peak
(Xinhua)
Updated: 2005-02-01 00:33
Beijing railways saw the first passenger peak Monday when more than 250,000 passengers left the national capital by train, rushing home for a family reunion for the coming Spring Festival.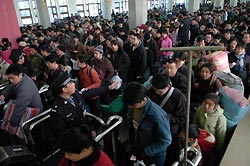 Passengers queue up for check-in before boarding trains in the Beijing Railway Station on January 31, 2005. [Xinhua]

An official with the Beijing Railway Administration said the peak was expected to last through Feb. 3 and the second peak will begin after that. The two tides will be when most people want to go home for the Spring Festival.

Beijing Railway Administration has added 33 pairs of temporary trains to handle the emergency passenger peaks, the official said.

Spring Festival, which falls on Feb. 9 this year, is an important occasion for Chinese families, similar to Christmas in the western world.

For years, transport facilities have been strained during the season as millions of migrant workers, college students and other Chinese flock back home and then return two weeks later.

China's transport departments usually define a month or even longer period as "Spring Festival transport peak." This year's peak season is from Jan. 25 to March 5.

In the past five days since the peak travel season began, the railways have carried 15.07 million passengers, a 6.6 decrease year-on-year. And 1,646 temporary trains have been launched, 16 more than the similar period last year.

Information from local transportation departments show that Beijing's railways will see 7.35 million passengers during the Spring Festival rush season which lasts for 40 days from Jan. 25 to March 5.




Today's Top News
Top China News

Closing farm-urban income gap 'top' goal




More meningitis cases, but no new deaths




Central bank plans more market moves




China, US discuss setting up defense hotline




Allawi calls for unity after Iraqi vote




Risk controls urged for Bank of China