Eight students die from meningitis in Anhui
By Zhang Feng (China Daily)
Updated: 2005-01-31 06:23
At least eight students from East China's Anhui Province have died of meningitis recently, health officials say.
Three patients died in Nanjing, capital of East China's Jiangsu Province and the other five died in hospitals in Anhui Province cities.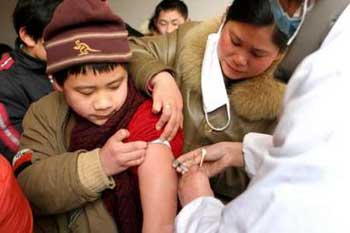 A child is vaccinated against meningitis in Chuzhou, east China's Anhui province January 30, 2005. [newsphoto]
Meanwhile, seven people are under medical observation and 49 have recovered from the disease, said Du Changzhi, deputy director of Anhui Provincial Health Bureau.
Du told media over the weekend that the cerebro-spinal meningitis started in schools and spread to 11 cities, including Wuhu, Chuzhou, Anqing, Chaohu and Hefei, during the past month.
From December 20 to January 28 Anhui health authorities received reports of 61 cases of the disease in the province.
Du said students made up 77 per cent of the total cases, which is up sharply from 14 in the same period a year ago.
Meningitis is an acute infectious disease spreading through the respiratory system, said Lei Zhenglong, the director of the Division of Emergency Response of the Ministry of Health.
"Compared with some other infectious diseases like tuberculosis, meningitis is still light in China, but it has also, however, killed more than 160 people in 2004," Lei said.
More than 2,000 people have been infected with the disease which generally peaks in winter and spring in China, Lei said.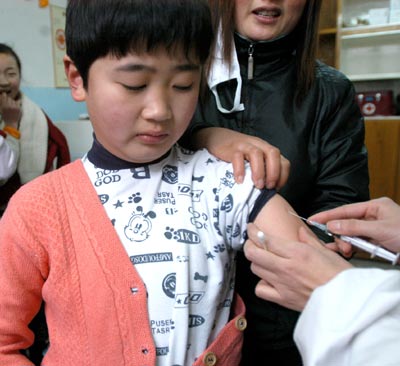 A child gets vaccinated against meningitis in Wuhu, Anhui Province January 30, 2005. [newsphoto]

It most often is caused by a bacterial or viral infection of the membranes around the brain and spinal cord and is characterized by fever, vomiting and intense headache.

The sickness has been caused by group C of meningitis diplococcus, a kind of bacteria, and most of the affected were school students aged from 13 to 18, according to Du.

Prevention measures for the disease are just like those for flu or SARS, including measures such as injections of vaccine, fresh air and using a mask if necessary, Lei noted.

Du said health authorities at various levels in Anhui have taken measures to control the spread of the disease: strengthening surveillance, public education, treating patients, and organizing immunization work.

In cities where the meningitis appeared, many people have rushed to be vaccined.

Thousands of doses of meningitis vaccine have been allocated by the Anhui Provincial Centre for Disease Control and Prevention and sent to the cities where there have been cases, said a doctor at the centre surnamed Fang.

In Hefei, capital of Anhui, people are immunizing themselves with the vaccine, Fang said.

People aged under 20 years old are the main group necessary to inject the vaccine, Fang said.

In China, immunization with the meningitis vaccine is not very popular yet because it should be paid for by the people themselves, said Lei.

There is only one factory producing the vaccine and it can produce about 30 million doses annually.

These vaccine usually are not sold out in the country with a population of nearly 1.3 billion, Lei said.

One dose of the vaccine is sold at a price of about 18 yuan (US$2) in Anhui and can be effective for three years, Fang said.

Official sources from Anhui indicated that the disease caused by the group C bacteria was first reported in September 2003 in Qingyang County.

Previous outbursts were usually caused by group A bacteria, Du said.

Du said that compared with group A, group C bacteria spread more easily and were more difficult to control.

The provincial authorities of health and education have issued guidelines with instructions on how to fight the disease, especially in schools, and publishes the latest developments every day.

The health authorities also suggested people who suffered from fever, headache, sore throat or coughs should go to hospital for treatment.

(China Daily 01/31/2005 page1)




Today's Top News
Top China News

Eight students die from meningitis in Anhui




Millions of Iraqis vote; attacks kill 35




Vice-Premier: China salutes more investment




Delegates to attend Koo funeral in Taiwan




US-led forces could leave Iraq in 18 months




Flights to Taiwan first in decades